Dit artikel is vervallen en niet meer leverbaar.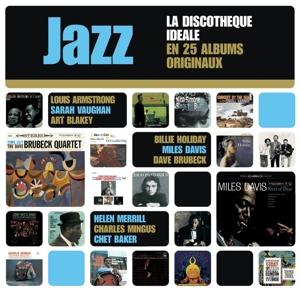 VARIOUS
PERFECT JAZZ COLLECTION
Drager: CD (Aantal 25 ) Levertijd: Niet meer leverbaar
Herkomst: NL Releasedatum: 28-06-2010 Item-nr: 2619021 EAN: 0886977200922
Disc 1
St. Louis Blues (Album Version)
Yellow Dog Blues (Album Version)
Loveless Love (Album Version)
Speak Like A Child - Album Version
Long Gone (From The Bowlin' Green)
The Memphis Blues (Or Mister Crump)
Beale Street Blues (Album Version)
Ole Miss Blues (Album Version)
Chantez Les Bas (Sing 'em Low) (Alb
Hesitating Blues (Album Version)
Atlanta Blues (Make Me One Pallet O
Interview With W.c. Handy (Album Ve
Loveless Love (Rehearsal Sequence)
Hesitating Blues - Rehearsal Sequen
Alligator Story (Album Version)
Long Gone (From The Bowlin' Green)
Solitudine
Solitude
Salice Piangi Per Me
Willow Weep For Me
Quando Il Tuo Amore
When Your Lover Has Gone
Disc 3
Disc 5
Disc 7
Disc 9
Disc 11
Disc 13
Disc 15
Disc 17
Disc 19
Disc 21
Disc 23
Disc 25
Disc 2
Disc 4
Disc 6
Disc 8
Disc 10
Disc 12
Disc 14
Disc 16
Disc 18
Disc 20
Disc 22
Disc 24
RECENSIE
25x cd box met album van o.a. Sarah Vaughan, Billie Holiday, Miles Davis, Louis Armstrong en nog veel meer! Uitgebracht op Sony.
| | |
| --- | --- |
| Recensent | : Redactie |
| Datum | : 7-12-2011 |
| Waardering | : 7.0 |
CD/DVD gratis verzending vanaf € 25,-
Vinyl gratis verzending vanaf € 50,-
Geen verzendkosten: