Dit artikel is vervallen en niet meer leverbaar.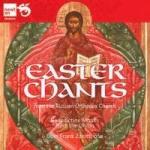 BENEDICTINE MONKS FROM THE UNION
EASTER CHANTS FROM THE RUSSIAN ORTH
Drager: CD (Aantal 1 ) Levertijd: Niet meer leverbaar
Herkomst: NL Releasedatum: 30-11-2012 Item-nr: 3024393 EAN: 8718247711574
RECENSIE

Easter Chants
1. Irmi
2. Beatitudes
3. Prokeimenon
4. Otche Nash
5. Troparium
6. Akathist Hymn
7. Kontakion
8. Sticheron
9. Trisagion
Benedictine Monks from the Union, Dom Frank Zanitti OSB

Although many priests were arrested and most Soviet churches looted and destroyed after the Russian Revolution of 1917, the fall of the Soviet regime in the late 20th century allowed Russian Orthodoxy to be reborn. This disc presents a collection of chants, which were written for the forty days before Easter Sunday, and provides a flavour of the traditional Russian Orthodox service, which was almost entirely sung.

Greater Lent is a period of fasting and intense prayer, and each of the chants has a particular significance and an accompanying ritual within the liturgy. The purpose of each chant may be to remind the worshipers of Jesus's teaching ('Our Father'), to explore the themes of sin and repentance ('Kontaktion to the Great Canon'), or to venerate the Virgin Mary ('Akathist'). These beautiful and stirring chants are sung by the Benedictine Monks from the Union.

Recorded in 1970.
New booklet notes by Andrew Stewart.
| | |
| --- | --- |
| Recensent | : Redactie |
| Datum | : 28-03-2013 |
| Waardering | : 7.5 |
CD/DVD gratis verzending vanaf € 25,-
Vinyl gratis verzending vanaf € 50,-
Geen verzendkosten: