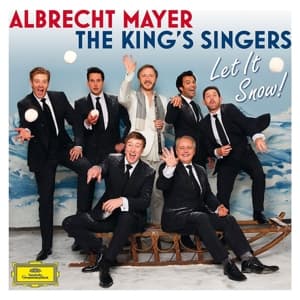 MAYER, ALBRECHT/KING'S SINGERS, THE
WINTERALBUM
Drager: CD (Aantal 1)
Levertijd: Op werkdagen voor 16:00 besteld, morgen in huis
Herkomst: NL
Releasedatum: 22-11-2013
Item-nr: 3166777
EAN: 0028947919070
RECENSIE


Hoboïst Albrecht Mayer en het zeskoppige close harmony gezelschap The King's Singers bezorgen ons met dit unieke album een prachtige muzikale winter. Met de Winter als thema voeren zij geslaagde arrangementen uit van de Winter van Vivaldi, Frühlingstraum uit de Winterreise van Schubert, werken van Bach, Saint-Saëns en natuurlijk enkele evergreens als Greensleeves, Es ist ein Ros' entsprungen, Jingle Bells en Let is snow in een geheel eigen uitvoering. Een stemmig album waarbij zowel de hobo als de zes stemmen van The King's Singers evenwichtig de boventoon. Een geslaagd klankharmonie die uitstekend bij deze tijd van het jaar past.


Albrecht Mayer & The King's Singers: Let It Snow

Traditional: What child is this? (Greensleeves)
Davis, Katherine Kennicott: The Little Drummer Boy
Praetorius, Michael: Es ist ein Ros' entsprungen
Rutter, John: The Wildwood Carol
Parchi, Chaim: Aleih Neiri
Saint-Saens, Camille: Sérénade d'Hiver
Pierpont, James Lord: Jingle Bells
Jule Styne: Let it snow!
Irish traditional: She Moved Through the Fair
Schubert, Franz: Frühlingstraum (Winterreise D911)
Humperdinck, Engelbert: Abends will ich schlafen gehn (Hänsel und Gretel)
Albinoni, Tomaso: Adagio
Bach, Johann Sebastian: Jesus bleibet meine Freude(Motet, BWV 227)
Loesser, Frank: Baby, it's cold outside
Vivaldi, Antonio: Winter (Four Seasons)

Händel, Georg Friedrich: Sarabande (Suite in D minor for keyboard, Vol.2, No.4, HWV 437)

Bach, Johann Sebastian: Sinfonia (Weihnachtsoratorium BWV 248: Part 2)
Albrecht Mayer (oboe)
The King's Singers

One of Germany's best-loved classical performers joins forces with a legendary close- harmony group for a winter-themed album to bring warmth to the dark months of the year: Albrecht Mayer & The King's Singers. The pairing of probably the world's most famous and accomplished oboist, Albrecht Mayer with the UK's celebrated vocal ensemble is a heavenly musical partnership, and the interplay of colours, melodies and harmonies between these performers enchant and delight with Baroque, classical and seasonal favourites. The album has a Yuletide theme with tracks such as 'Let It Snow', 'Jingle Bells' and 'Baby It's Cold Outside'.
| | |
| --- | --- |
| Recensent | : Redactie |
| Datum | : 12-08-2013 |
| verschenen in Platomania | : 304 |
| Waardering | : 7.5 |
CD/DVD gratis verzending vanaf € 25,-
Vinyl gratis verzending vanaf € 50,-
Geen verzendkosten: