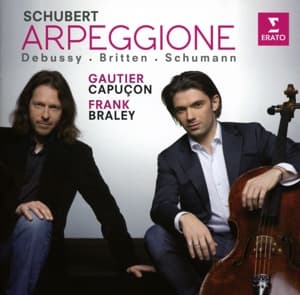 Drager: CD (Aantal 1)
Levertijd: Op werkdagen voor 16:00 besteld, morgen in huis
Herkomst: NL
Releasedatum: 7-11-2013
Item-nr: 3173889
EAN: 5099993415828
RECENSIE
Dit programma wordt verwijl integraal door Gautier Capuçon en Frank Braley op 20 februari 2014 in het Concertgebouw uitgevoerd.



Met dit album willen pianist Frank Braley en de Franse cellist Gautier Capuçon twee belangrijke musici uit de vorige eeuw eren. Mstislav Rostropovich en Benjamin hebben samen de Arpeggione Sonate van Schubert, Schumann's Fünf Stücke im Volkston, de Cello Sonata van Debussy en Britten's Cellosonata opgenomen. Capuçon is met de muziek van Britten opgegroeid en wil graag in dit herdenkingsjaar deze weinig gespeelde cellosonate uitbrengen. Het bijzondere van de werken van Schubert, Schumann en Debussy is dat zij alle drie de werken schreven tegen het einde van hun componistenbestaan. Capuçon (die deze winter een aantal keren in Nederland zal optreden) en Braley zijn uitstekend op elkaar ingespeeld om er een gedenkwaardig album van te maken.


Schubert: Arpeggione

Britten:
Sonata for cello and piano in C major, Op. 65
Debussy:
Cello Sonata
Schubert:
Sonata in A minor 'Arpeggione', D821
Schumann:
Stücke im Volkston (5), Op. 102
Gautier Capuçon (cello) & Frank Braley (piano)

This collection of works for cello and piano, with Schubert's Arpeggione Sonata as its centrepiece, sees Gautier Capuçon and Frank Braley paying tribute to two towering musicians of the 20th century, Mstislav Rostropovich and Benjamin Britten, who recorded all four of the works on the programme: Schubert's 'Arpeggione' Sonata, Debussy's Cello Sonata, Schumann's Fünf Stücke im Volkston and Britten's own Cello Sonata in five movements, which received its first performance at the Aldeburgh Festival in 1961, two years after composer and cellist had first met. "It is a magnificent piece," says Gautier Capuçon of the Britten, "and too rarely played as far as I'm concerned. I grew up with Britten's children's opera The Little Sweep, so I am well acquainted with his language." Moreover, 2013 marks the 100th anniversary of Britten's birth.

Schubert wrote the Arpeggione Sonata – conceived for the eponymous six-stringed fretted instrument, but now standard repertoire for cello – in 1824, when he was already desperately ill and suffering from crushing bouts of depression. "It is a work that has always profoundly touched and moved me," says Capuçon, "There is such greatness of feeling in it, even though Schubert was in the depths of despair. As Beethoven is reputed to have said: 'Truly, in Schubert there dwells a divine spark!'

Debussy's Cello Sonata was also written at dark time, in 1915, the second year of the First World War, when the composer was already ill with the cancer that was to kill him in 1918; yet it is a work of both sober elegance and mercurial fantasy from this archetypal musicien français – the words with which Debussy signed the score. Schumann's Fünf Stücke im Volkston (Five Pieces in the Popular Style) were written in 1849, a productive time for the composer, even though he, too, was suffering from ill health – signs of the mental disturbances that were to lead to a suicide attempt five years later. Again, these are not dark works, but lyrical and accessible.
| | |
| --- | --- |
| Recensent | : Redactie |
| Datum | : 17-11-2013 |
| verschenen in Platomania | : 303 |
| Waardering | : 8.0 |
CD/DVD gratis verzending vanaf € 25,-
Vinyl gratis verzending vanaf € 50,-
Geen verzendkosten: