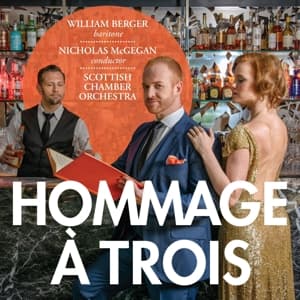 BERGER, WILLIAM/CAROLYN S
HOMMAGE A TROIS
Drager: SACD (Aantal 1)
Levertijd: 6 a 10 werkdagen
Herkomst: NL
Releasedatum: 10-01-2014
Item-nr: 3210258
EAN: 0691062042826
RECENSIE
Beschreven door Gramophone Magazine als "één van de beste van onze jongere baritons" presenteert William Berger als specialist in het 17e en 18e-eeuwse repertoire een programma uit bekende en minder bekende opera's van Haydn, Mozart en Cimarosa. Hoogtepunten op deze interessante opera-schijf delen uit Cimarosa's vermakelijke Maestro di Capella' en natuurlijk niet te missen die vrolijke Papagena-aria uit Mozarts Zauberflöte.

Verheugend is het ook dat Haydn met aria's uit vijf opera's zo ruim is vertegenwoordigd.

In de duetten wordt Berger bijgestaan door de heerlijke sopraan Carolyn Sampson. Het Scottish Chamber Orchestra onder leiding van Nicholas McGegan zorgt voor een natuurlijke en ongedwongen begeleiding.

De opname is glashelder en biedt precies de juiste hoeveelheid sfeer wat betreft het geluid. Teksten en vertalingen zijn opgenomen in het begeleidende boekje.


Hommage à Trois

Cimarosa:
Il maestro di cappella: excerpts
Haydn:
Chi nel cammin d'onore (L'Isola disabitata)
Il pensier sta negli aggotti (L'Anima del Filosofo - Orfeo ed Euridice)
Teco lo guida al campo (Armida)
Gia la morte in mante nero (from La vera costanza)
Non sparate... mi disdico... (La Vera Costanza)
Mozart:
Crudel! perché finora farmi languir così? (from Le nozze di Figaro)
Hai gia vinta la causa! (from Le nozze di Figaro)
Fin ch'han dal vino (from Don Giovanni)
Deh! vieni alla finestra (from Don Giovanni)
Rivolgete a lui lo sguardo (from Così fan tutte)
Bei Männern, welche Liebe fühlen (from Die Zauberflöte)
Pa-pa-pa-pa-Papagena (from Die Zauberflöte)
William Berger (baritone), Carolyn Sampson (soprano)
Scottish Chamber Orchestra, Nicholas McGegan

Described by Gramophone Magazine as 'one of the best of our younger baritones' William Berger makes his Linn debut with a programme of arias from some of the finest operatic composers.

Soprano Carolyn Sampson guest stars on several duets whilst the Scottish Chamber Orchestra, which has won several awards for its performances of Mozart, provides sterling support throughout.

Following a 2012 performance by Berger, the SCO and McGegan, The Herald commented that Cimarosa's 1792 cantata Il Maestro di Capello woud be 'a highlight of [the] upcoming Linn disc this team is making.'

The programme encompasses arias from all of Haydn and Mozart's best-loved operas; Berger's stage portrayal of Papageno was praised by The Arts Desk: 'Berger is also a deft, musicianly baritone, and a communicator who has the audience eating out of his hand.'

Berger's debut album was chosen by Guardian critics as one of the 'Best Classical Albums of 2012' and by David Mellor as his 'Album of the Week' on Classic FM.

William Berger's warm, rich baritone and charismatic stage presence have been winning praise from audiences and critics alike. With his intelligent approach to characterisation and thrilling interpretations, he's a rising young star on both the concert and operatic stage.

A specialist in 17th and 18th century repertoire, William has performed all of the major Mozartian baritone roles as well as a wide selection of roles by Monteverdi, Handel, Haydn, Puccini, Janáček and Weill.

In concert, William has performed at the Royal Albert Hall, Royal Festival Hall, Wigmore Hall, Sadler's Wells and Birmingham Symphony Hall with orchestras and ensembles including the London Philharmonic Orchestra, City of Birmingham Symphony Orchestra and English Consort.

Carolyn Sampson has sung many roles for English National Opera and for Glyndebourne Festival Opera, and has appeared with Opéra de Paris, Opéra de Lille and at the Boston Early Music Festival.

Described as 'an expert in 18th-century style' (The New Yorker) Nicholas McGegan is the Grammy nominated director of the Philharmonia Baroque Orchestra; he is active in opera as well as the concert hall and has given several premiere performances of collaborations with choreographer Mark Morris.
| | |
| --- | --- |
| Recensent | : Redactie |
| Datum | : 2-09-2014 |
| verschenen in Platomania | : 305 |
| Waardering | : 8.0 |
CD/DVD gratis verzending vanaf € 25,-
Vinyl gratis verzending vanaf € 50,-
Geen verzendkosten: