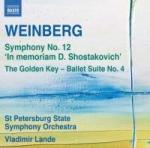 SYMPHONY NO.12 'IN MEMORY
Drager: CD (Aantal 1)
Levertijd: 6 a 10 werkdagen
Herkomst: NL
Releasedatum: 3-02-2014
Item-nr: 3222291
EAN: 0747313308576
RECENSIE
Twee werken van de Russische componist van Pools-Joodse origine: Mieczyslaw Weinberg (ook wel Moisey Vainberg). Ter nagedachtenis aan de dood van de componist Sjostakovich mee wie hij veel contact had, schreef hij zijn 12e symfonie. De stijl en sfeer ademen het werk van zijn vriend. Van de 4 balletten die Weinberg schreef, zijn er helaas maar 2 bewaard gebleven. Van zijn 4e ballet wordt hier de 4e suite uitgevoerd. De andere 3 worden later nog uitgebracht. Lande leidt het orkest op grootse wijze en geeft een klasse uitvoering.


Weinberg: Symphony No. 12 'In memoriam D. Shostakovich'

Symphony No. 12 'In memoriam D. Shostakovich'
Suite No. 4 from 'The Golden Key', Op. 55d
St. Petersburg State Symphony Orchestra, Vladimir Lande

Weinberg's symphonies are recognized today as a substantial continuation of the Russian tradition. Weinberg's Symphony No. 12 was written in the style and spirit of Shostakovich and is a response to the death in August 1975 of his great friend and supporter of 32 years. With its subtle stylistic allusions to Shostakovich, this is the longest and most wide-ranging of Weinberg's purely orchestral symphonies. This recording has been prepared utilising the composer's hand written materials and markings. One of only two surviving ballet scores, The Golden Key is a compelling satire, extending a lineage which includes Prokofiev and Stravinsky.

Our ongoing cycle of Mieczysław Weinberg's symphonies has been universally acclaimed. A "performance of searing intensity" (BBC Music Magazine) of the Symphony No. 8 (8572873) was awarded Diapason d'Or and recommended by ClassicsToday.com as "a very fine release of music by an elusive but tremendously sincere and worthy composer".

The St. Petersburg State Symphony Orchestra conducted by its American principal guest conductor Vladimir Lande has also recorded Weinberg's Symphony No. 19 (8572752) and Symphony No. 6 (8572779), with Lande's conducting considered as having "an understanding and fervour that is greatly superior" (Gramophone) to any of the recorded alternatives.
| | |
| --- | --- |
| Recensent | : Redactie |
| Datum | : 2-09-2014 |
| verschenen in Platomania | : 305 |
| Waardering | : 9.0 |
CD/DVD gratis verzending vanaf € 25,-
Vinyl gratis verzending vanaf € 50,-
Geen verzendkosten: