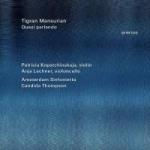 KOPATCHINSKAJA, PATRICIA / LECHNER,
QUASI PARLANDO
Drager: CD (Aantal 1)
Levertijd: 3 a 5 werkdagen
Herkomst: NL
Releasedatum: 31-03-2014
Item-nr: 3233477
EAN: 0028948106677
RECENSIE
Afwisselend ruig en ingetogen. Zo klinkt als eerste het dubbelconcert van de in Beiroet geboren Armeense componist Tigran Mansurian. Daarna nog drie werken van hoge kwaliteit in een dito uitvoering. In zijn muziek verwerkt Mansurian Armeense volksmuziek en kerkgezangen. De beide solisten Patricia Kopatchinskaja en Anja Lechner spelen beide een door Mansurian aan hen opgedragen werk. In de Romance strijkt violiste Kopatchinskaja haar instrument met passie in warme bogen en gevoelvolle tinten. Lechner soleert in Quasi parlando: de cello spreekt en klaagt, vraagt en antwoordt. Tot slot het 2e concert voor viool en strijkers. Het Amsterdam Sinfonietta begeleidt de vier werken op voortreffelijke wijze en tillen de solisten en zichzelf tot hoog niveau. Met 'geest, magie en pure muziek' is alles gezegd.


Tigran Mansurian: Quasi parlando

Double Concerto for violin, violoncello and string orchestra
Patricia Kopatchinskaja (violin) & Anja Lechner (cello)
Romance for violin and string orchestra
Patricia Kopatchinskaja (violin)
Quasi parlando for violoncello and string orchestra
Anja Lechner (cello)
Concerto No. 2 'Four Serious Songs' for violin and string orchestra
Patricia Kopatchinskaja (violin)
Amsterdam Sinfonietta, Candida Thompson

Quasi Parlando is an important addition to ECM's documentation of the work of Tigran Mansurian, an often breathtaking account of highly original contemporary chamber orchestra music. Issued in the wake of his 75th birthday, the album presents four works for soloists and strings, and marks the ECM debut of the Moldovan violinist Patricia Kopatchinskaja, winner of the 2013 Gramophone Awards 'Record of the Year'.

It opens with the Armenian composer's fiercely-concentrated Double Concerto for Violin, Cello and String Orchestra, and proceeds to new music performed by its dedicatees: the lyrical Romance, dedicated to Patricia Kopatchinskaja, and the intensely expressive Quasi Parlando, dedicated to German cellist Anja Lechner. Both are world premiere recordings, as is the Violin Concerto No 2, subtitled Four Serious Songs, which concludes the programme. Throughout, the soloists deliver committed performances, as does the Amsterdam Sinfonietta under the direction of Candida Thompson.

In terms of textural density, Mansurian's music has seen some changes in the thirty years that separate the composing of the Double Concerto and the Four Serious Songs, but his aesthetic stance has been consistent, both works sharing an immediacy of expression and rigorous creative will. At the same time, the composer encourages a degree of creative freedom from his music's interpreters: "What is important is what the music needs, not what I need", he said in a talk at the Muziekgebouw Amsterdam, immediately before the recording of these pieces in October 2012.

Tigran Mansurian's music was first heard on ECM with the recording Hayren (released in 2003), where his pieces were brought together with music of his great formative influence, the ethnologist, composer and priest, Komitas. Subsequent Mansurian recordings include Monodia (4727842), the String Quartets (4763052), and the choral album Ars Poetica (4763070).
| | |
| --- | --- |
| Recensent | : Redactie |
| Datum | : 4-02-2014 |
| verschenen in Platomania | : 307 |
| Waardering | : 9.5 |
CD/DVD gratis verzending vanaf € 25,-
Vinyl gratis verzending vanaf € 50,-
Geen verzendkosten: