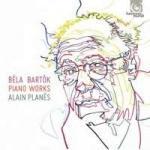 Drager: CD (Aantal 1)
Levertijd: 3 a 5 werkdagen
Herkomst: NL
Releasedatum: 14-04-2014
Item-nr: 3240786
EAN: 3149020216323
1. Moderato
2. Allegro Molto
3. Allegro Vivace
4. Molto Tranquillo
5. Comodo
6. Finale: Allegro
Nr. 1 Rubato
Nr. 2 Andante
Nr. 3 Poco Rubato
Nr. 4 Andante
1. Allegro Moderato
2. Sostenuto E Pesante
3. Allegro Molto
Nr. 1 Der Tanz Mit Dem Stabe
Nr. 2 Brâul
Nr. 3 Der Stampfer
Nr. 4 Tanz Der Butschum
Nr. 5 Rumänische Polka
Nr. 6 Schnell Tanz
Nr. 1 Molto Sostenuto
Nr. 2 Allegro Giocoso
Nr. 3 Andante
Nr. 4 Grave
Nr. 5 Vivo
Nr. 6 Lento
Nr. 7 Allegretto Molto Capriccioso
Nr. 8 Andante Sostenuto
Nr. 9 Allegretto Grazioso
Nr. 10 Allegro
Nr. 11 Allegretto Molto Rubato
Nr. 12 Rubato
Nr. 13 Lento Funebre
Nr. 14 Valse
RECENSIE

Bartók: Piano Works

Dance Suite, BB 86, Sz. 77
Hungarian Peasant Songs for piano (15), BB 79, Sz. 71
Four Old Hungarian Songs
Piano Sonata, BB 88, Sz. 80
Romanian Folk Dances for piano, Sz. 56, BB 68
14 Bagatelles, BB 50, Sz. 38
Alain Planès (piano)
"At last, something genuinely new."

It was in these terms that Ferruccio Busoni greeted the publication in 1908 of the 14 Bagatelles, in which Béla Bartók conveyed the violent aesthetic impact of his discovery of authentic Hungarian peasant music. Over the next 20 years, up to the magisterial Sonata of 1926, he indefatigably refined an innovative pianistic language: pungent, dissonant, percussive, with multiple new playing techniques, that was to influence the entire 20th century. A master of every style, from Haydn to Boulez by way of Chopin and Chabrier, Alain Planès is revealed here as a Bartókian of the front rank.
| | |
| --- | --- |
| Recensent | : Redactie |
| Datum | : 29-03-2014 |
| verschenen in Platomania | : 308 |
| Waardering | : 8.5 |
CD/DVD gratis verzending vanaf € 25,-
Vinyl gratis verzending vanaf € 50,-
Geen verzendkosten: