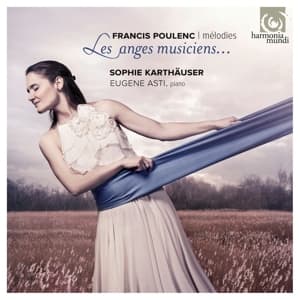 Drager: CD (Aantal 1)
Levertijd: 3 a 5 werkdagen
Herkomst: NL
Releasedatum: 14-04-2014
Item-nr: 3240787
EAN: 3149020217924
Nr. 1 C.
Nr. 2 Fêtes Galantes
Bleuet (Jeune Homme De Vingt Ans) Fp 102
Nr. 4 Voyage À Paris
Nr. 1 Montparnasse
Nr. 2 Hôtel
Nr. 1 Le Présent
Nr. 2 Chanson
Nr. 3 Hier
Ce Doux Petit Visage (Rien Que Ce Doux Petit Visage) Fp 99
Main Dominée Par Le Coeur Fp 135
Nr. 1 Bonne Journée
Nr. 2 Une Ruine Coquille Vide
Nr. 3 Le Front Comme Un Drapeau Perdu
Nr. 4 Une Roulotte Couverte En Tuiles
Nr. 5 A Toutes Brides
Nr. 6 Une Herbe Pauvre
Nr. 7 Je N'ai Envie Que De T'aimer
Nr. 8 Figure De Force Brûlante Et Farouche
Nr. 9 Nous Avons Fait La Nuit
Vocalise-Étude Fp 44
Nr. 1 La Dame D'andré
Nr. 2 Dans L'herbe
Nr. 3 Il Vole
Nr. 4 Mon Cadeau Est Doux Comme Un Gant
Nr. 5 Violon
Nr. 6 Fleurs
Fancy (Tell Me Where Fancie Bred) Fp 174
Nr. 1 Le Sommeil
Nr. 2 Quelle Aventure!
Nr. 3 La Reine De Coeur
Nr. 4 Ba, Be, Bi, Bo, Bu
Nr. 5 Les Anges Musiciens
Nr. 6 Le Carafon
Nr. 7 Lune D'avril
A Sa Guitare Fp 79
Les Chemins De L'amour Fp 106 (Valse Chantée)
RECENSIE
Op haar eerste liederen-CD voert de Belgische sopraan Sophie Karthäuser (1974) vocaal werk uit van Francis Poulenc (1899-1963). Poulenc ging bij het componeren van zijn liederen uit van zowel de tekst als de persoon van de dichters die hij vaak persoonlijk kende. Sophie Karthäuser weet met al haar vocale mogelijkheden die teksten in een heel natuurlijke frasering aan ons te vertellen. Zij lijkt helemaal boven de tekst en de soms grillige muzikale wendingen van Poulenc te staan, zonder ook maar een ogenblik aan intensiteit te verliezen. En dat alles uitmuntend begeleid door de Amerikaanse pianist Eugene Asti.


Poulenc: Les Anges musiciens

Deux poèmes de Louis Aragon
Bleuet
Voyage à Paris
Montparnasse
Hotel
Trois Poèmes de Louise Lalanne
Ce doux petit visage
Main dominée par le coeur
Vocalise
Tel jour telle nuit
Fiançailles pour rire, FP101
La courte paille
Deux chansons pour Yvonne Printemps
Sophie Karthäuser (soprano) & Eugene Asti (piano)

Francis Poulenc's corpus of songs is one of the most generous and accomplished in the French repertoire. Born in 1899 and living until 1963, he inherited the art of the 19th century, which he succeeded in renewing while remaining within the bounds of tonal language, setting mostly contemporary poets (Apollinaire, Éluard, Aragon, Louise de Vilmorin). He drew his inspiration from the atmosphere specific to each text, but also from listening attentively to the timbre and rhythm of the poet reading his or her own works. This was, in the composer's view, an essential key to penetrating the mystery of their creations. Associating the specific experience of the poet with his own personal memories, Poulenc created an expressive aura unique in the song output of his time.

Belgian soprano Sophie Karthäuser studied with Noelle Barker at the Guildhall School of Music and Drama in London.

She is now in great demand in the foremost international venues, especially as a Mozart singer. She sang her first Pamina (Die Zauberflöte) under René Jacobs and her first Susanna (Le nozze di Figaro) under William Christie. She has especially close relationships with the Théâtre de la Monnaie (Brussels) and the Theater an der Wien (Vienna) in Baroque and Classical roles.

Since winning the Audience Prize at the Wigmore Hall Song Contest she has developed an acclaimed career as a recitalist, enjoying a particularly close artistic partnership with the distinguished American pianist Eugene Asti. [This is his first appearance on the harmonia mundi label.] Her extensive discography includes successful releases of aria and song recitals and complete operas. She may be heard in the harmonia mundi recordings of Mozart's 'La finta giardiniera' and Pergolesi's 'Septem verba a Christo' under the direction of René Jacobs. This is her first recital programme for harmonia mundi.
| | |
| --- | --- |
| Recensent | : Frits Broekema |
| Datum | : 29-03-2014 |
| verschenen in Platomania | : 307 |
| Waardering | : 8.5 |
CD/DVD gratis verzending vanaf € 25,-
Vinyl gratis verzending vanaf € 50,-
Geen verzendkosten: