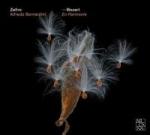 Drager: CD (Aantal 1)
Levertijd: 6 a 10 werkdagen
Herkomst: NL
Releasedatum: 10-03-2014
Item-nr: 3241664
EAN: 3760195733745
RECENSIE

Mozart: En Harmonie

arranged for 13 instruments
Don Giovanni, K527 - Arranged for Wind Ensemble
Così fan tutte, K588 - Arranged for wind ensemble
Le nozze di Figaro, K492 - Arranged for Wind Ensemble
Zefiro, Alfredo Bernardini

Reissue of one of the most successful recording by Zefiro (2004), which seems to have had only very limited release previously: arrangements for 13 instruments (i.e. the same scoring as the Gran Partita) by Zefiro's oboist leader Alfredo Bernardini of music from the three great Da Ponte operas: Le nozze di Figaro K492, Don Giovanni K527, Così fan tutte K588.

"Through the arrangements presented here of the three Mozart operas to librettos by Lorenzo Da Ponte Zefiro wishes to draw attention to the most typical repertoire of the wind ensemble during the Viennese classical period. These new arrangements do not aim to give a modern view of these masterpieces, but rather to evidence that, for its liveliness, expression, sensitivity and sheer artistry, this music will always be actual and close to human nature." Alfredo Bernardini, from liner notes.
| | |
| --- | --- |
| Recensent | : Redactie |
| Datum | : 27-03-2014 |
| verschenen in Platomania | : 307 |
| Waardering | : 8.0 |
CD/DVD gratis verzending vanaf € 25,-
Vinyl gratis verzending vanaf € 50,-
Geen verzendkosten: