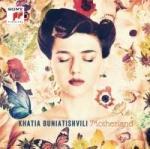 Drager: CD (Aantal 1)
Levertijd: Op werkdagen voor 16:00 besteld, morgen in huis
Herkomst: NL
Releasedatum: 16-05-2014
Item-nr: 3195491
EAN: 0888837346221
RECENSIE
Na het succes van het Chopin en het Liszt album brengt de in Parijs wonende Khatia Buniatishvili (Georgië 1987) een zeer persoonlijk album onder de titel Motherland, met haar interpretaties van Bach's aria Schafe können sicher weiden tot Für Alina van Arvo Pärt. Het zijn zeventien prachtige melancholische werken zoals Clair de Lune van Debussy, het Wiegenlied van Liszt en Homesickness van Grieg. Khatia Buniatishvili heeft ook oog voor muziek uit haar land met een werk van Georgische stadgenoot Giya Kancheli en een eigen bewerking van Vagiorko mai. Een Slavische dans van Antonín Dvořák voor vier handen, speelt zij samen met haar zus Gvantsa speelt. Een prachtig album met een mythische touch.


Khatia Buniatishvili: Motherland

Bach, J S:
Sheep May Safely Graze, from Cantata BWV208
Brahms:
Intermezzo in B flat minor, Op. 117 No. 2
Chopin:
Étude Op. 25 No. 7 in C sharp minor
Debussy:
Clair de Lune (from Suite Bergamasque)
Dvorak:
Slavonic Dance No. 10 in E minor, Op. 72 No. 2
with Gvantsa Buniatishivili (piano)
Grieg:
Lyric Pieces Op. 57: No. 6 - Homesickness
Handel:
Minuet in G minor
Kancheli:
When Almonds Blossomed
From the film by Lana Gogoberidze
Ligeti:
Musica ricercata No. 7
Liszt:
Wiegenlied (Chant du berceau), S198
Mendelssohn:
Song without Words, Op. 67 No. 2 in F sharp minor
Pärt:
Für Alina
Ravel:
Pavane pour une infante défunte
Scarlatti, D:
Keyboard Sonata K380 in E major
Scriabin:
Étude Op. 2 No. 1 in C sharp minor
Tchaikovsky:
The Seasons, Op. 37b: October ('Autumn Song')
trad.:
Vagiorko mai (Don't you love me?)
Traditional / Khatia Buniatishvili
Khatia Buniatishvili (piano)

Following the success of her Chopin album on Sony Classical, Khatia Buniatishvili now reveals a new, highly personal side on her album 'Motherland'.

The CD is an intimate quest encompassing solo piano works from Bach to Pärt and from Brahms to Kancheli, in which the themes of longing for home, the merriment of a folk dance and the eternal cycle of growth and decay are apparent.

Spanning a broad stylistic and historical range, the album celebrates the works that have accompanied Khatia Buniatschvili's personal path in life, including pieces from her Georgian homeland.

Motherland juxtaposes the happy lightness of a 'Slavonic Dance' by Dvorak and the melancholy of Grieg's lyrical 'Homesickness', and contrasts the elegant gaiety of Mendelssohn's 'Song without Words' (op. 67/2) with the graceful introspection of Liszt's 'Lullaby'. Classics of the Romantic piano repertoire such as Chopin's Étude in C-sharp minor (op. 25/7) and Brahms 'Intermezzo' (op. 117/2) are embedded between Bach's cantata 'Sheep May Safely Graze' and Arvo Pärt's musical dedication 'For Alina'.

Khatia Buniatishvili has been described by The Independent as "the young Georgian firebrand". At the age of only 26 years, this Tblisi-born pianist has already achieved an exceptional maturity of interpretation and a distinctive artistic approach that make her playing unmistakable.

Khatia's warm, sometimes sorrowful playing may reflect a close proximity to Georgian folk-music, which, she attests, has greatly influenced her musicality. Critics emphasize that her playing has an aura of elegant solitude and even melancholy, which she does not feel to be a negative attribute. "The piano is the blackest instrument," she says, a "symbol of musical solitude… I have to be psychologically strong and forget the hall if I want to share it with the audience." Khatia Buniatishvili speaks five languages and lives in Paris.
| | |
| --- | --- |
| Recensent | : Redactie |
| Datum | : 16-05-2014 |
| verschenen in Platomania | : 308 |
| Waardering | : 8.5 |
CD/DVD gratis verzending vanaf € 25,-
Vinyl gratis verzending vanaf € 50,-
Geen verzendkosten: