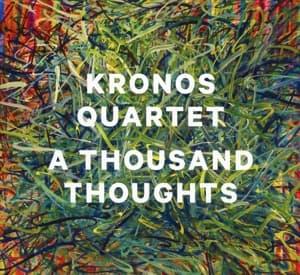 Drager: CD (Aantal 1)
Levertijd: Op werkdagen voor 16:00 besteld, morgen in huis
Herkomst: NL
Releasedatum: 24-04-2014
Item-nr: 3247280
EAN: 0075597955736
RECENSIE


Het Kronos Quartet viert haar veertigste verjaardag met een bijzonder kleurrijk album. Drie van de vier leden van dit vooruitstrevende kwartet spelen nog steeds, alleen de cellist is drie keer vervangen. Het veelzijdige programma bestaat uit tien nieuwe en vijf eerder uitgebrachte opnamen. Met andere woorden een muzikale reis langs veertien landen zoals Argentinië, Zweden, China, Vietnam, India, Turkije en Amerika, waarbij Kronos Quartet terzijde wordt gestaan door verschillende ensembles. Het album wordt afgesloten met het traditionele Danny Boy, waarbij de Texaan Don Walser dit melancholische lied voor zijn rekening neemt. Kleurrijk en veelzijdig.


Kronos Quartet - A THOUSAND THOUGHTS

Tracklist
1 Tusen Tankar (Traditional)
2 Dark Was the Night, Cold Was the Ground (Blind Willie Johnson)
3 La Sidounak Sayyada (Omar Souleyman)
4 Lưu thủy trường (Traditional/Kim Sinh)
5 Aha Gèdawo (Gétatchèw Mèkurya)
6 An Buachaillín Bán (Traditional)
7 The Round Sun and Crescent Moon in the Sky (Traditional)
8 Eviç Taksim (Tanburi Cemil Bey)
9 Rangin Kaman (excerpt) (Homayun Sakhi)
10 Smyrneiko Minore (Traditional)
11 Cry of a Lady (Terry Riley)
12 Sim Sholom (Alter Yechiel Karniol)
13 Mera Kuchh Saaman (Rahul Dev Burman)
14 Asleep (from Five Tango Sensations) (Astor Piazzolla)
15 Danny Boy (Traditional)

Kronos Quartet and its artistic director/founding violinist David Harrington have long been known as interpreters of music from around the world, expanding the string quartet repertoire with works from across genres. Nonesuch, the Quartet's longtime label, celebrates this remarkable curiosity in the group's 40th anniversary year with two releases: the Kronos Explorer Series five-CD box set and a new album, A Thousand Thoughts, both of which will be available on April 21 2014).

A Thousand Thoughts is a look at Kronos' geographically wide-ranging sources. It features music from 14 different countries, including China, India, Sweden, and Vietnam. The album includes the four cellists who have been in Kronos Quartet over the last 36 years: Joan Jeanrenaud (1978–1999), Jennifer Culp (1999–2005), Jeffrey Zeigler (2005–2013), and Sunny Yang (2013–present). Ten of the album's 15 pieces are previously unreleased.

For 40 years, the Kronos Quartet—David Harrington, John Sherba (violins), Hank Dutt (viola), and Sunny Yang (cello)—has pursued a singular artistic vision, combining a spirit of exploration with a commitment to continually re-imagining the string quartet experience. In the process, Kronos has become one of the most celebrated and influential groups of our time, performing thousands of concerts worldwide, releasing more than 50 recordings, collaborating with many of the world's most accomplished composers and performers, and commissioning more than 800 works and arrangements for string quartet. In 2011, Kronos became the only recipients of both the Polar Music Prize and the Avery Fisher Prize, two of the most prestigious awards given to musicians. The group's numerous awards also include a Grammy for Best Chamber Music Performance (2004) and Musicians of the Year (2003) from Musical America.
| | |
| --- | --- |
| Recensent | : Redactie |
| Datum | : 18-04-2014 |
| verschenen in Platomania | : 308 |
| Waardering | : 9.0 |
CD/DVD gratis verzending vanaf € 25,-
Vinyl gratis verzending vanaf € 50,-
Geen verzendkosten: