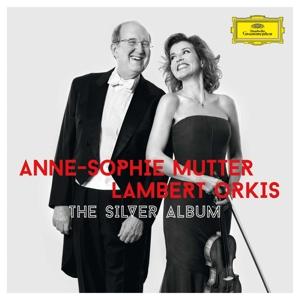 Drager: CD (Aantal 2)
Levertijd: 6 a 10 werkdagen
Herkomst: NL
Releasedatum: 2-05-2014
Item-nr: 3249730
EAN: 0028947929499
RECENSIE
Ruim 25 jaar geleden introduceerde Mścisław Rostropowicz Lambert Orkis bij Anne-Sophie Mutter. Dit leidde tot een vruchtbare samenwerking tussen de Duitse violiste en de Amerikaanse pianist, die in december 1988 voor het eerst samen in Amerika optraden. Hoewel het om twee verschillende persoonlijkheden gaat, kunnen zij uitstekend met elkaar samenwerken. Er volgen zeer goed ontvangen opnamen van alle vioolsonates van Mozart, Beethoven en Brahms. De veelzijdige Orkis – die zowel zijn sporen heeft verdiend op het vlak van de oude muziek als de hedendaagse muziek –heeft Mutter bij hedendaagse componisten geïntroduceerd. Het resultaat is dat ongeveer veertig minuten van dit dubbelalbum is ingeruimd voor nieuw werk van Penderecki en Previn. Een prachtig veelzijdig album met nieuwe en heruitgegeven opnamen.


Anne-Sophie Mutter: The Silver Album

Beethoven:
Violin Sonata No. 7 in C minor, Op. 30 No. 2
Brahms:
Violin Sonata No. 2 in A major, Op. 100
Hungarian Dance No. 1 in G minor
Hungarian Dance No. 2 in D minor
Hungarian Dance No. 5
Debussy:
Beau Soir
Arr. Jascha Heifetz
Fauré:
Violin Sonata No. 1 in A major, Op. 13
Kreisler:
Schön Rosmarin
Caprice Viennois, Op. 2
Liebesleid
Massenet:
Meditation (from Thaïs)
Transcribed by M. P. Marsick. New Recording
Mozart:
Violin Sonata No. 33 in E flat major K481
Penderecki:
La Follia per violino solo

Dedicated to Anne-Sophie Mutter. First performance 14 December 2013, Carnegie Hall, New York. World-premiere recording

Previn:
Violin Sonata No. 2

Commissioned by Anne-Sophie Mutter and the Klavier-Festival Ruhr. Dedicated To Anne- Sophie Mutter. World-premiere recording

Ravel:
Vocalise-étude en forme de habanera
New Recording
Anne-Sophie Mutter (violin) & Lambert Orkis (piano)

This special 2 CD collection celebrates 25 years of Anne-Sophie Mutter and Lambert Orkis performing and recording together. The celebrated violinist says: "Meeting Lambert was a stroke of luck for me. It quickly became clear how perfectly we breathe and phrase together. With Lambert I can do anything." Ever since, the two of them have explored the musical worlds of many different composers in a wonderful artistic partnership.

With 40 minutes of new music, which she will be featuring on her tour concerts, and some of her most famous encores this album is a must-have for all Anne-Sophie Mutter fans.
| | |
| --- | --- |
| Recensent | : Redactie |
| Datum | : 5-10-2014 |
| verschenen in Platomania | : 308 |
| Waardering | : 8.5 |
CD/DVD gratis verzending vanaf € 25,-
Vinyl gratis verzending vanaf € 50,-
Geen verzendkosten: