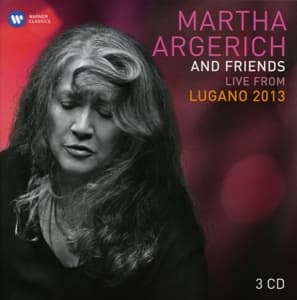 Drager: CD (Aantal 3)
Levertijd: 3 a 5 werkdagen
Herkomst: NL
Releasedatum: 15-05-2014
Item-nr: 3250903
EAN: 0825646312207
Disc 2
1. Moderato
2. Andante Espressivo
3. Passacaglia: Allegro Moderato Ma Energico
Trauergondeln (La Lugubre Gondola) Nr. 1-2 S 200
1. Allegro Non Troppo
2. Allegro
3. Largo
4. Allegro
Cello Sonata In D Minor, Op. 40: Iv. Allegro
RECENSIE
Over een paar weken begint de dertiende editie van het Lugano Festival, het festival waarop pianiste Martha Argerich met bevriende muzikanten naast klassiekers vooral ook minder bekende werken ten gehore brengen. Tot de eerste categorie behoort Beethovens pianoconcert, inmiddels minstens tienmaal door Argerich opgenomen. Dat valt echter niet af te horen aan de sprankelende uitvoering hier, samen met het Orchestra della Svizzera Italiana onder leiding van de Nederlandse dirigent Hubert Soudant. Tot de minder bekende werken behoren Liszts La lugubre gondola, hier in de versie voor piano en viool en Offenbachs Gaite parisienne in een versie voor drie piano's. Zeer bekend is Saint-Saens dierencarnaval, dat in een feestelijke uitvoering waarbij alle gasten hun talenten kunnen tonen, dit boxje besluit.


Martha Argerich & Friends: Live from Lugano 2013

Beethoven:
Piano Concerto No. 1 in C Major, Op. 15
Martha Argerich (piano)
Orchestra della Svizzera italiana, Hubert Soudant
Cello Sonata No. 2 in G minor, Op. 5 No. 2
Mischa Maisky (cello) & Martha Argerich (piano)
Debussy:
Petite Suite
Martha Argerich (piano) & Cristina Marton (piano)
Liszt:
La Lugubre Gondola I, S200 No. 1
Alissa Margulis (violin) & Jura Margulis (piano)
La Lugubre Gondola II, S200 No. 2
Alissa Margulis (violin) & Jura Margulis (piano)
Offenbach:
Gaité Parisienne – Ballet Suite
trascr. di C. M. Griguoli - prima esecuzione

Giorgia Tomassi (piano), Carlo Maria Griguoli (piano) & Alessandro Stella (piano)

Ravel:
Violin Sonata in A minor 'Sonate posthume'
Andrey Baranov (violin) & Jura Margulis (piano)
Respighi:
Violin Sonata in B minor
Renaud Capuçon (violin) & Francesco Piemontesi (piano)
Saint-Saëns:
Le carnaval des animaux

Martha Argerich (piano), Lilya Zilberstein (piano), Andrey Baranov (violin), Michael Guttman (violin), Lyda Chen (viola), Alexandre Debrus (cello) Enrico Fagone, double bass - Alfred Rutz, flute - Corrado Giuffredi, clarinet – Gregorio Di Trapani, percussion

Shostakovich:
Cello Sonata in D minor, Op. 40
Gautier Capuçon (cello) & Gabriela Montero (piano)
Martha Argerich (piano)

The latest instalment of highlights from the Martha Argerich Project at the Lugano Festival. This is the 11th annual 3CD set celebrating the musical fruits of a project in which young artists join seasoned performers, including Martha Argerich herself, to explore wide-ranging chamber music and orchestral repertoire, both well-known and rarely heard.
| | |
| --- | --- |
| Recensent | : Redactie |
| Datum | : 16-05-2014 |
| verschenen in Platomania | : 308 |
| Waardering | : 8.5 |
CD/DVD gratis verzending vanaf € 25,-
Vinyl gratis verzending vanaf € 50,-
Geen verzendkosten: