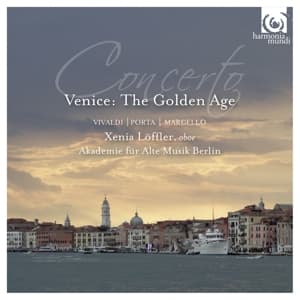 AKADEMIE FUR ALTE MUSIK BERLIN
CONCERTO VENICE - THE GOLDEN AGE
Drager: CD (Aantal 1)
Levertijd: 3 a 5 werkdagen
Herkomst: NL
Releasedatum: 4-08-2014
Item-nr: 3289543
EAN: 3149020218525
RECENSIE
Aan het einde van de zestiende eeuw nemen andere landen de dominantie van de Venetiaanse handel over. Op muziekgebied blijft de stad hoog in aanzien. Dat komt door de vele uitstekende musici die aan de Ospedali zoals Ospedale della Pietà worden opgeleid. In dit meisjesweeshuis geeft Vivaldi een groot deel van zijn leven muziekles. Veel van zijn 500 concerten zijn voor dit instituut geschreven, zoals menig hoboconcert. In zijn tijd schitterde Pellegrina tot op hoge leeftijd. Op dit album is dat Xenia Löffer, die als één van de veelbelovende hoboïste van haar generatie wordt gezien. Naast concerten van Vivaldi voert zij uitstekend met de Akademie für Alte Musik Berlin werken uit van collega's van Vivaldi: Marcello, Porta en Tessarini.


Concerto - Venice: The Golden Age

Marcello, A:
Oboe Concerto in D Minor
Porta, G:
Sinfonia for trumpet, strings & continuo in D
Rom:

Concerto 'L'Olimpiade' in C major, Quasi-Pasticcio after Antonio Vivaldi & Carlo Tessarini

Tessarini:
Overture in D major from Op. 4 'La Stravaganza'
Vivaldi:
Concerto for strings in E minor, RV 134
Concerto in B flat major RV364, RV Anh.18
Concerto RV 576 for violin, recorders, oboes & bassoon
Oboe Concerto in C major, RV450
Xenia Löffler (baroque oboe)
Akademie für Alte Musik Berlin, Georg Kallweit

This disc is an invitation to explore one of the great attractions of Venice in the Baroque era, the famous 'ospedali'. These were establishments that took care of and educated children and adolescents. In the early 18 century almost all the leading Venetian musicians were linked with the musical activities of one of the ospedali. The best-known among them was Antonio Vivaldi: just 25 when he was hired as violin teacher at the Ospedale della Pietà. Among the residents of the Pietà was a girl named Pellegrina, for whom Vivaldi wrote many of his oboe concertos. Accompanied by her colleagues of the Akademie für Alte Musik Berlin, oboist Xenia Löffler not only breathes new life into a selection of concertos by the 'Red Priest', but also several by his emulators, among them a contemporary composer, Uri Rom.

The programme begins with a concerto composed by Rom [b. 1969] in 2013 to a commission from the Akademie für Alte Musik and dedicated to Xenia Löffler, one of today's leading oboists. 'Concerto L'Olimpiade' is a sort of pasticcio based on works by Antonio Vivaldi and Carlo Tessarini. The first movement is based on the aria 'Siam navi all'onde algenti' from the opera' L'Olimpiade'. The second movement reflects the reception of the Italian style by J. S. Bach. The finale takes as its models a movement from a violin concerto by Vivaldi (RV 172) and a movement from a violin concerto by Tessarini. The solo part and the formal layout of the movement are new.

Since 2001 Xenia Löffler has been a member and principal oboist of the Akademie für Alte Musik, appearing regularly on international concert platforms as a soloist with that orchestra and with Collegium 1704 (Prague), the Batzdorfer Hofkapelle and the orchestra of the Halle Handel Festival.
| | |
| --- | --- |
| Recensent | : Redactie |
| Datum | : 8-02-2014 |
| verschenen in Platomania | : 310 |
| Waardering | : 8.5 |
CD/DVD gratis verzending vanaf € 25,-
Vinyl gratis verzending vanaf € 50,-
Geen verzendkosten: