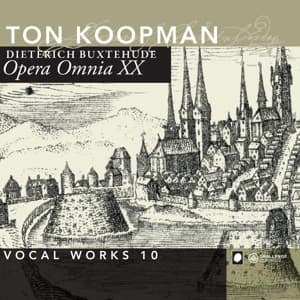 KOOPMAN, TON / AMSTERDAM BAROQUE OR
OPERA OMNIA XX - VOCAL WORKS 10
Drager: CD (Aantal 2)
Levertijd: 6 a 10 werkdagen
Herkomst: NL
Releasedatum: 8-10-2014
Item-nr: 3308978
EAN: 0608917225921
RECENSIE
Het repertoire van gewijde muziek dat is ontstaan ​​in het protestantse Duitsland tijdens de tweede helft van de 17e eeuw is van een buitengewone verscheidenheid. Luister naar het laatste en tiende deel van het Opera Omnia project van Ton Koopman met indrukwekkende opnamen uit het veelzijdige oeuvre van Dieterich Buxtehude (ca.1637-1707).

Zijn werk vertegenwoordigt beter dan bij welke andere componist uit die tijd de experimentele fase van de Heilige muziekcompositie op dat moment.

Het is negentig minuten lang genieten van een breed scala van sacrale werken maar ook met een aantal in opdracht van vooraanstaande families voor bruiloften geschreven seculiere composities.

Prachtige afsluiting van het Opera Omnia project door één van 's-werelds belangrijkste vroege muziek specialisten en autoriteit op het gebied van de muziek van Buxtehude.


Buxtehude - Vocal Works 10
Opera Omnia XX

Walts Gott, mein Werk ich lasse, BuxWV 103
Du Lebensfurst, Herr Jesu Christ, BuxWV 22
Cantata BuxWV 108: Wie schmeckt es so lieblich und wohl
Auf, Saiten, auf! Lasst euren Schall erklingen! BuxWV 115
O lux beata, trinitas, BuxWV 89
Nun freut euch, ihr Frommen, mit mir, BuxWV 80
Der Herr ist mit mir, for chorus, strings & continuo, BuxWV 15
Dixit Dominus Domino meo, BuxWV17
Kommst du, Licht der Heiden, BuxWV 66
O fruhliche Stunden, o herrliche Zeit, BuxWV 85
O Jesu mi dulcissime, BuxWV 88
Ecce nunc benedicite Domino BuxWV23
Jesu, meine Freude BuxWV 60
O fröhliche Stunden, BuxWV 84
Gestreuet mit Blumen, BuxWV 118
Fallax mundus, BuxWV28
Deh cedete il vostro vanto, BuxWV117
Wo ist doch mein Freund geblieben? BuxWV 111
Herr, auf dich traue ich Buxwv35
Amsterdam Baroque Orchestra and Choir, Ton Koopman

This 2-CD set is the last volume of an outstanding series of recordings in which Ton Koopman and the musicians and singers of Amsterdam Baroque have recorded the complete works of Dieterich Buxtehude.

The featured music on this, the 10th release in the survey to present vocal works, includes a wide range of genres, with performances of concertos, chorales, arias, cantatas and wedding pieces. Ton Koopman celebrated his 70h birthday on 2nd October 2014, and earlier in 2014 he was presented with the prestigious Bach Prize by London's Royal Academy of Music.

The large, substantial, and multi-faceted work of Dieterich Buxtehude represents the period between Heinrich Schütz and Johann Sebastian Bach better than any other contemporaneous composer. The works produced by him during the nearly forty years he held the distinguished position as organist at St. Mary's in Lübeck from 1668 until his death in 1707 also clearly reflect the experimental phase characteristic of sacred music composition at the time. This experimental phase led from the motets, sacred concertos, and chorale settings prevailing before 1650 to the multi-movement cantata, a new genre that with its choruses, recitatives, arias, and chorales defined Lutheran church music after 1700 for many decades. Alongside the many sacred works featured on this album are three secular compositions which Buxtehude wrote for weddings commissioned by prominent families in the city of Lübeck.

Ton Koopman is one of the world's foremost early music specialists and directors. His recording of the complete Bach Cantatas on Challenge Classics received worldwide acclaim. In recent years he has undertaken the daunting task of recording all of the music of the great early baroque composer Dieterich Buxtehude. As president of the International Dieterich Buxtehude Society, Ton Koopman is considered to be one of the world's leading authorities on his music.
| | |
| --- | --- |
| Recensent | : Redactie |
| Datum | : 30-10-2014 |
| verschenen in Platomania | : 313 |
| Waardering | : 9.0 |
CD/DVD gratis verzending vanaf € 25,-
Vinyl gratis verzending vanaf € 50,-
Geen verzendkosten: