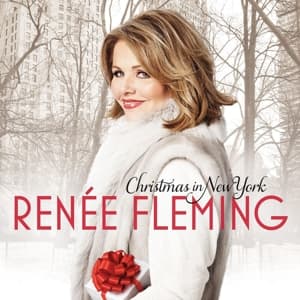 Drager: CD (Aantal 1)
Levertijd: 6 a 10 werkdagen
Herkomst: NL
Releasedatum: 31-10-2014
Item-nr: 3319416
EAN: 0028947867708
RECENSIE


Renée Fleming (1959) werd als dochter van twee zangleraren van jongs aan muzikaal gevormd. Toch ging ze een carrière als zangeres uit de weg, om een opleiding als operazangeres te volgen. Vanaf 1986 zingt zij met veel succes opera's van ondermee Mozart en Massenet. Ook heeft zij oog voor moderne werken. Renée Fleming ontving meerdere Grammy's voor diverse albums met Bel Canto en werken van Gounod en Charpentier. Voor het eerst brengt Fleming een kerstalbum met werken uit het klassieke, pop en jazz genre. Samen met Wynton Marsalis, Gregory Porter, Kelli O'Hara, Chris Botti, Brad Mehldau, Kurt Elling en Rufus Wainwright maakt Renée Fleming een sfeervol album. Deze veelzijdige aanpak zal een grote groep muziekliefhebbers aanspreken.




Renée Fleming: Christmas in New York




1. Winter Wonderland – featuring Wynton Marsalis
2. Have Yourself a Merry Little Christmas – Gregory Porter
3. Silver Bells – Kelli O'Hara
4. Merry Christmas Darling – Chris Botti
5. Christmas Waltz – solo
6. Who Knows Where the Time Goes – Brad Mehldau
7. Sleigh Ride – Wynton Marsalis
8. Snowbound – Kurt Elling
9. In the Bleak Midwinter – Rufus Wainwright
10. Central Park Serenade – Gregory Porter
11. The Man with the Bag – solo
12. Love and Hard Times – Brad Mehldau
13. Still, Still, Still – Kurt Elling
Renée Fleming (soprano)

American soprano Renee Fleming's first-ever holiday album celebrates the beloved and iconic Christmas season in New York City. From Rockefeller Center to the holiday windows lining 5th Avenue, the essence of the city at the most wonderful time of year is captured on Christmas in New York.

With guests representing such genres as jazz, pop and classical, this album will appeal not only to Fleming's core classical fan base but also to a broader, music savvy consumer.

Joining Fleming for the Christmas celebration are guest artists ranging from Rufus Wainwright and Gregory Porter to Wynton Marsalis and Kurt Elling.

Fleming's elegant persona along with the intimate arrangements of holiday classics makes this album perfect for holiday parties, stocking stuffers and as a treasured holiday gift. This sophisticated album is sure to be a perennial favourite.
| | |
| --- | --- |
| Recensent | : Redactie |
| Datum | : 14-11-2014 |
| verschenen in Platomania | : 313 |
| Waardering | : 8.5 |
CD/DVD gratis verzending vanaf € 25,-
Vinyl gratis verzending vanaf € 50,-
Geen verzendkosten: