Dit artikel is vervallen en niet meer leverbaar.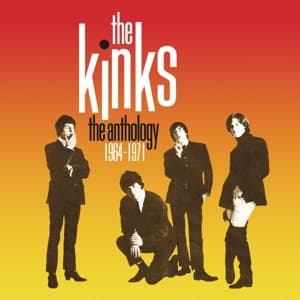 KINKS
ANTHOLOGY 1964 - 1971
Drager: CD (Aantal 6) Levertijd: Niet meer leverbaar
Herkomst: NL Releasedatum: 14-11-2014 Item-nr: 3320977 EAN: 0888750215420
Disc 1
I Took My Baby Home
I'm A Hog For You, Baby
I Don't Need You Any More (Demo)
Ev'rybody's Gonna Be Happy (Demo)
Long Tall Sally
You Still Want Me
You Do Something To Me
You Really Got Me (Remastered)
It's All Right (Remastered)
Beautiful Delilah (Alternate Mono Mix)
Just Can't Go To Sleep
I'm A Lover Not A Fighter (Alternate Mono Mix)
Little Queenie (Live At The Playhouse Theatre, 1964)
Too Much Monkey Business (Alternate Take)
Stop Your Sobbing (Mono)
All Day And All Of The Night
I Gotta Move
I Gotta Go Now
I've Got That Feeling (Live At Piccadilly Studios, 1964)
Tired Of Waiting For You
Come On Now (Alternate Mix)
Look For Me Baby
Nothin' In The World Can Stop Me Worryin' 'bout That Girl
Wonder Where My Baby Is Tonight
Don't Ever Change
You Shouldn't Be Sad
Something Better Beginning
Ev'rybody's Gonna Be Happy
Who'll Be The Next In Line (Session Excerpt - Backing Track Take One)
Who'll Be The Next In Line (Alternate Mix)
Set Me Free
I Need You
Interview: Clay Cole Meets The Kinks
Disc 3
Disc 5
Disc 2
Disc 4
Disc 6
You Really Got Me (Live)
Milk Cow Blues (Live)
RECENSIE
In september dit jaar was het precies vijftig jaar geleden dat The Kinks een nummer een hit scoorden met You Really Got Me. Dat feit en het gerucht dat de band weer bij elkaar komt voor een serie optredens is aanleiding genoeg voor een nieuwe, uit vijf cd's bestaande Anthology. Deze box richt zich louter op de successen in de zestiger jaren en verzamelt naast alle hits en essentiële albumtracks ook 25 niet eerder uitgebrachte tracks. Met het vervallen van de eerder verschenen boxset Picture Book - die overigens wel de hele carrière belichtte - is het dan ook verheugend dat er weer een uitstekend overzicht is van een van de belangrijkste bands die Engeland ooit voortbracht. Alle tracks zijn opnieuw geremastered en klinken anno nu nog net zo urgent als vijftig jaar geleden. Een essentieel stuk Britse popgeschiedenis.
| | |
| --- | --- |
| Recensent | : Redactie |
| Datum | : 14-10-2014 |
| verschenen in Platomania | : 312 |
| Waardering | : 9.0 |
CD/DVD gratis verzending vanaf € 25,-
Vinyl gratis verzending vanaf € 50,-
Geen verzendkosten: