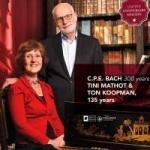 MATHOT, TINI / KOOPMAN, TON
FANTASIA / 6 ORGAN SONATAS
Drager: CD (Aantal 2)
Levertijd: Op werkdagen voor 16:00 besteld, morgen in huis
Herkomst: NL
Releasedatum: 29-10-2014
Item-nr: 3328239
EAN: 0608917266825
RECENSIE
C.P.E. Bach is wellicht de grootste componist van zijn generatie. Overbrugde de kloof tussen de barokstijl en de klassieke stijl (Haydn, Mozart). Hij was het ook die de sonate ontwikkelde.

Van zijn grote oeuvre treffen wij op deze 2CD-set aan een schijf met opnames van een zestal orgel sonates door Ton Koopman en een schijf met klavecimbel werk uitgevoerd door Koopmans echtgenote Tini Mathot.

Koopman is één van 's-werelds belangrijkste vroege muziek toetsenbord specialisten. Ook Mathot is een groot ervaringsdeskundige. Een rijke luisterervaring is het om deze twee giganten deze fantastische muziek te horen spelen.

Ons wordt spelenderwijs duidelijk waarom de toetsenbord muziek van C.P.E. Bach zo uniek is. Improvisatorisch van karakter, uitzonderlijk harmonisch inzicht, virtuositeit, speciale effecten, dat abrupt stoppen en die tempowisselingen (Klavecimbel schijf). Oordeel zelf!


CPE Bach: Fantasia & 6 Organ Sonatas

Keyboard Sonata in A major, Wq. 70/1 (H133)
Sonata for Organ in B flat, Wq. 70/2 (H134)
Sonata for Organ in F, Wq. 70/3 (H84)
Sonata in A minor for organ, Wq. 70/4 (H85)
Sonata for Organ in D, Wq. 70/5 (H86)
Sonata for Organ in G minor, Wq. 70/6 (H87)
Free Fantasia, for keyboard in F sharp minor, H300/Wq67
Rondo in G major, Wq. 57/3 (H271)
Twelve Variationen über die Folie d'Espagne, Wq118/9/H263
Fantasia for keyboard in C major, Wq. 59/6 (H284)
Rondo in E major, Wq. 57/1 (H265)
Fantasia in B flat major, Wq. 61/3 (H289)
Keyboard Sonata in F minor, Wq. 57/6 (H173)
Rondo in D major, Wq. 56/3 (H261)
Tini Mathot (fortepiano), Ton Koopman (organ)

This specially priced 2CD set presents a combination of Ton Koopman's recording of C.P.E Bach's 6 Organ Sonatas and a disc performed by his wife Tini Mathot of harpsichord works by the same composer.

It replaces the single CD version of the Organ Sonatas (CC72260) previously made available in June 2014. The album is being released to mark 300 years since C.P.E Bach's birth, as well as the birthdays of the two soloists. Ton Koopman celebrated reaching the age of 70 on 2nd October, and Tini Mathot who turns 65 in 2014.

Although C.P.E. Bach left a substantial body of work after his death, relatively few of these works appear to have be written specifically for the organ. The instrument on which Ton Koopman made the recording of the first CD in this set once belonged to Anna Amalia, having been installed in her Berlin mansion in 1755, the same year that marked the appearance of four of these works. Ton Koopman is one of the world's foremost early music keyboard specialists and directors. Earlier in 2014 he was awarded the Royal Academy of Music's highly-prestigious Bach Prize for his "remarkable work promoting Bach's music in the last thirty or so years."

The majority of the harpsichord works performed by Tini Mathot on the second CD are from the series of keyboard works 'for connoisseurs and amateurs' published by C.P.E. Bach himself. Included are the three free fantasies (1784, 1786, 1787), three rondos (1778, 1779, 1780), a set of Folia variations (1778) and one sonata (1763). With the exception of the sonata, all the works featured here were composed in Hamburg during the final decade of the composer's life. Tini Mathot was born in Amsterdam and studied piano and harpsichord at the city's Sweelinck Conservatory. She works regularly in collaboration with her husband and former teacher Ton Koopman with whom she performs in concert halls around the world. Their repertoire for various combinations of keyboards ranges from well-known to rediscovered, previously unknown works.
| | |
| --- | --- |
| Recensent | : Redactie |
| Datum | : 11-08-2014 |
| verschenen in Platomania | : 313 |
| Waardering | : 9.0 |
CD/DVD gratis verzending vanaf € 25,-
Vinyl gratis verzending vanaf € 50,-
Geen verzendkosten: