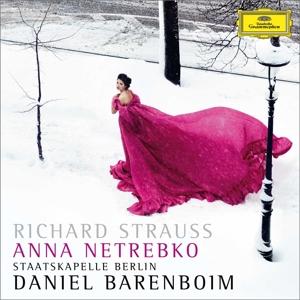 FOUR LAST SONGS; EIN HELDENLEBEN
Drager: CD (Aantal 1)
Levertijd: Op werkdagen voor 16:00 besteld, morgen in huis
Herkomst: NL
Releasedatum: 21-11-2014
Item-nr: 3328361
EAN: 0028947939641
RECENSIE
De honderdvijftigste geboortedag van Richard Strauss is een speciale reden voor de Staatskapelle uit Berlijn om voor een speciaal Strauss concert een top sopraan en top dirigent te engageren. Immers Richard Strauss stond 1200 keer voor dit gerenommeerde orkest waarmee hij veel van zijn eigen werk heeft uitgevoerd. De Vier letzte Lieder worden subliem gezongen door de beroemdste sopraan van dit moment, Anna Netrebko. Daniel Barenboim, die als jongen al kennismaakte met Wilhelm Furtwängler, dirigeert het orkest. Furtwängler dirigeerde in 1949 de eerste uitvoering van Vier letzte Lieder, van de 84 jarige componist. Dit memorabele concert wordt besloten met een prachtige interpretatie van Ein Heldenleben, één van Strauss meest populaire toongedichten, dat vijftig jaren eerder dan deze liederen in première ging.


Strauss: Four Last Songs

(Deluxe Hard cover book version)
Strauss, R:
Vier letzte Lieder
Anna Netrebko (soprano)
Ein Heldenleben, Op. 40
Staatskapelle Berlin, Daniel Barenboim

• Saving the best for last in the Richard Strauss anniversary 2014. The world's most luxurious soprano, Anna Netrebko, sings Richard Strauss' sumptuous Four Last Songs, accompanied by the Staatskapelle Berlin and Daniel Barenboim. An irresistible, all-star combination.

• Netrebko is a phenomenon. The world's best-selling active soprano and quite simply, the undisputed superstar – "la prima donna assoluta" (New York Post) – of opera today. Known equally for her poise, her sensuality and her voice's unmistakable color, Strauss's elegiac Four Last Songs are an exquisite vehicle for her expressive gifts: Netrebko's first recording of these gorgeous, iconic songs.

• Barenboim: conductor, pianist, humanitarian - perhaps the world's most complete living musician. A venerated interpreter of Wagner, Mozart, Beethoven and Bruckner, in many ways the music of Richard Strauss represents the apotheosis of Barenboim's musical ethos. In 1954, the then 11 year-old Barenboim was introduced to his idol, conductor Wilhelm Furtwängler. It was Furtwängler who conducted the world premiere of Strauss' Four Last Songs in 1949

• The Staatskapelle Berlin, one of Germany's oldest and most prestigious orchestras boasts a proud Strauss tradition including great performances and recording under the composer himself, as well as under great Straussians Felix Weingartner, Leo Blech, Erich Kleiber, Wilhelm Furtwängler, Otto Klemperer, Clemens Krauss, Hans Knappertsbusch, Joseph Keilberth, Ottmar Suitner and Daniel Barenboim.

• The Staatskapelle and Barenboim then interpret Ein Heldenleben, one of the most vivid and popular tone poems by Strauss, who himself was Generalmusikdirektor of the Staatskapelle a century ago.
| | |
| --- | --- |
| Recensent | : Redactie |
| Datum | : 21-11-2014 |
| verschenen in Platomania | : 313 |
| Waardering | : 9.0 |
CD/DVD gratis verzending vanaf € 25,-
Vinyl gratis verzending vanaf € 50,-
Geen verzendkosten: