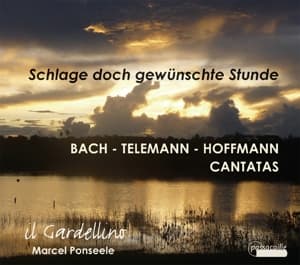 Drager: CD (Aantal 1)
Levertijd: 11 a 14 werkdagen
Herkomst: NL
Releasedatum: 7-11-2014
Item-nr: 3335642
EAN: 5425004149893
RECENSIE

Schlage doch, gewünschte Stunde: Cantatas

Bach, J S:
Cantata BWV27 'Wer weiß, wie nahe mir mein Ende?'
Cantata BWV55 'Ich armer Mensch, ich Sündenknecht'
Cantata BWV159 'Sehet, wir gehn hinauf gen Jerusalem': Aria: Es ist vollbracht
Hoffmann, G M:
Schlage doch, gewünschte Stunde
Telemann:
Du aber Daniel, gehe hin, TWV 4:17
Il Gardellino, Marcel Ponseele

This is the fifth cd in a series of cantatas performed by il Gardellino on the awkward theme of 'death and redemption'. During the XVIII century, the ravages of the Thirty Years' War led in the Germanic lands to an outburst of mysticism, to which meditation on the meaning of life and death was central. This essential metaphysical question, which troubles every human being, was known to be particularly intense in those days, when two-thirds of the population had perished in horrific circumstances. And it is Christian piety, especially Lutheran, which provided its responses and consolations. Since life is ephemeral and for everyone is only full of cares and worries, afflictions and misfortune, it should be finished soon in order to be delivered from it.
| | |
| --- | --- |
| Recensent | : Redactie |
| Datum | : 12-03-2014 |
| verschenen in Platomania | : 313 |
| Waardering | : 8.5 |
CD/DVD gratis verzending vanaf € 25,-
Vinyl gratis verzending vanaf € 50,-
Geen verzendkosten: