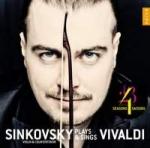 SINKOVSKY PLAYS AND SINGS VIVALDI
Drager: CD (Aantal 1)
Levertijd: 6 a 10 werkdagen
Herkomst: NL
Releasedatum: 2-03-2015
Item-nr: 3368508
EAN: 0709861305599
RECENSIE
Na de herontdekking in de jaren vijftig van de vorige eeuw, zijn van de Vier Jaargetijden al zo'n tweehonderd uitvoeringen op geluidsdragers vastgelegd.

'Al weer een uitvoering van de Vier Jaargetijden' zult u nu misschien zeggen. Jawel, maar luister dan maar eens naar deze zeer indrukwekkende interpretatie!

Verantwoordelijk voor één der fraaiste uitvoeringen van deze eerste vier van de in totaal twaalf vioolconcerten uit de bundel Il Cimento dell'armonica e dell'inventione (De Krachtmeting tussen Harmonie en Inventie) is de Russchische barok violist en countertenor Dmitry Sinkovsky met zijn eigen ensemble La Voce Strumentale.

Wat dit magistrale album nog meer cachet geeft zijn een aantal door Sinkovsky gezongen vocale werken zoals de aria's 'Nell'orrido Albergo' en 'Gelido in ogni vena' uit de opera Farnace.

Superaanrader!

Sinkovsky plays and sings Vivaldi

The Four Seasons
Cantata RV684 'Cessate, omai cessate' for alto & strings
Gelido in ogni vena (from Il Farnace, RV711)
Dmitry Sinkovsky (violin, countertenor & conductor)
La Voce Strumentale

This new interpretation of Vivaldi's 'Four Seasons' is a long-awaited major event for Naive. Beyond the technical and musical options chosen by Sinkovsky, his decision to integrate and sing the vocal pieces in this recording, the cantata 'Cessate omai Cessate' and the aria 'Gelido in ogni vena' from Farnace, give a unique twist to the whole concept. Russian baroque violinist and countertenor Dmitry Sinkovsky has had a huge profile in Europe and Australia over the past few years. He was the privileged partner of Joyce di Donato during her Drama Queen worldwide tour, of which he was konzertmeister and his outstanding virtuosity and charisma have systematically enthused and impressed audiences wherever he performs. Sinkovsky's two previous contributions to the Vivaldi Edition (Concertos 'per Pisendel' and Double Concertos with Riccardo Minasi), both recorded with Il Pomo d'Oro, were enthusiastically received by the press: Diapason, Gramophone, Fonoforum, Scherzo e.a. Dmitry Sinkovsky founded La Voce Strumentale in 2011, bringing together musicians from Europe and Russia to form a period instrument orchestra specialising in 17th and 18th century repertory. They are a regular guest at leading concert halls in Moscow, including the Bolshoi Theatre and the State Philharmonic, and they have recently begun appearing in Europe where they have performed in Holland, Spain and Finland. In 2014 La Voce Strumentale began their collaboration with the French label Naïve, releasing their first CD with music by Vivaldi.
| | |
| --- | --- |
| Recensent | : Redactie |
| Datum | : 2-12-2015 |
| verschenen in Platomania | : 315 |
| Waardering | : 9.0 |
CD/DVD gratis verzending vanaf € 25,-
Vinyl gratis verzending vanaf € 50,-
Geen verzendkosten: