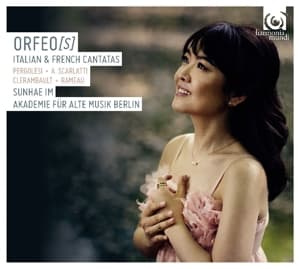 ORFEOS ITALIAN & FRENCH CANTATAS
Drager: CD (Aantal 1)
Levertijd: 3 a 5 werkdagen
Herkomst: NL
Releasedatum: 16-03-2015
Item-nr: 3368518
EAN: 3149020218921
RECENSIE
De mythe van Orpheus speelt een grote rol in de operageschiedenis. Naast Peri, Monteverdi en Gluck hebben vele componisten de stof verwerkt, niet alleen in opera's. Op haar debuut voor Harmonia Mundi Orfeo(s) ontfermt de Zuid-Koreaanse sopraan Sunhae Im zich op indrukwekkende wijze over vier Orpheus-kantates, twee Italiaanse (Pergolesi, Scarlatti) en twee Franse (Clerambault, Rameau). Vooral Orphée van Clerambault, geschreven in 1710 voor sopraan en kamerorkest maakt indruk door fraaie recitatieven en hartverscheurende aria's.


Orfeo(s): French and Italian Cantatas

on the theme of Orpheus
Clérambault:
Cantate Orphee 'a voix seule et symphonie'
Pergolesi:
Orfeo (Cantata)
Rameau:
Orphée 'Cantate avec simphonie'
Scarlatti, A:
L'Orfeo "Dall' oscura magion del arsa Dite" For soprano, 2 Violins & B.c
Sunhae Im (soprano)
Akademie für Alte Musik Berlin

For her first solo recital disc on harmonia mundi, Sunhae Im has chosen four cantatas dealing with the myth of Orpheus. The figure of the mythical singer, whose songs moved even wild beasts and inanimate rocks to tears, has fascinated composers ever since touching the listener's emotions became the programme of the musical work of art and offering a wide range of possibilities for musical depiction: the melodious charm of Arcadia; the dances during the wedding celebrations of Orpheus and Eurydice; the abrupt change of mood at Eurydice's death; Orpheus' daring descent into Hades; and finally the subjugation of the underworld deities and even death itself through expressive solo singing. Since her stage debut in Europe in the 1999/2000 season, the South Korean soprano Sunhae Im has demonstrated her artistic versatility and her acting talent in numerous international opera productions. Sunhae has worked with such conductors as Philippe Herreweghe, William Christie, Fabio Biondi, Iván Fischer, Kent Nagano, Riccardo Chailly and René Jacobs, and also sings regularly with ensembles such as the Akademie für Alte Musik Berlin and the reiburger Barockorchester.

Alongside her concert and operatic career, she has been a frequent visitor to the recording studio, frequently for harmonia mundi, including Haydn's cantatas for the Esterházy family, a series of Mozart recordings under the direction of René Jacobs (Don Giovanni, Idomeneo, La clemenza di Tito, Die Zauberflöte, La finta giardiniera), Bach's St Matthew Passion and Haydn's Die Schöpfung, many of which have been distinguished by international awards.
| | |
| --- | --- |
| Recensent | : Redactie |
| Datum | : 14-02-2015 |
| verschenen in Platomania | : 315 |
| Waardering | : 8.5 |
CD/DVD gratis verzending vanaf € 25,-
Vinyl gratis verzending vanaf € 50,-
Geen verzendkosten: