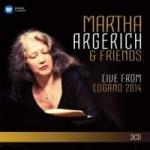 Drager: CD (Aantal 3)
Levertijd: 3 a 5 werkdagen
Herkomst: NL
Releasedatum: 7-05-2015
Item-nr: 3387442
EAN: 0825646134601
RECENSIE
Inmiddels uitgegroeid tot een ware successtory: muzikale hoogtepunten van het rond legende Martha Argerich georganiseerde festival in het Zwitserse Lugano. Het vertrouwde projectconcept: jonge kunstenaars sluiten zich aan bij de gevestigde en doorgewinterde musici op een verkenningstocht door het brede repertoire van de kamermuziek en het orkestrale repertoire.
Het in 2002 voor het eerst gelanceerde project behoudt zijn experimentele karakter vanwege de oorspronkelijke programmering en de opkomst van nieuwe talenten en tevens beschermelingen van Argerich. Naast Martha medewerking van onder andere Gidon Kremer, Gabriela Montero, Mischa Maisky en Gautier Capuçon.
Hoogtepunten ondermeer: Mozart's Piano Concerto No. 20, Mendelssohns Symphony No. 1 in een bewerking van Busoni voor twee piano's en acht handen, de Cello Sonate van Frank Bridge en de Vioolsonate No. 5 van Mieczyslaw Weinberg.
Warm aanbevolen deze 3-CD set!

Martha Argerich & Friends: Live from Lugano 2014

Beethoven:
Variations (7) on "Bei Männern, welche Liebe fühlen", for Cello and Piano, WoO 46
Martha Argerich (piano) & Mischa Maisky (cello)

Borodin:
Piano Quintet in C minor
Alexander Mogilevsky (piano), Andrey Baranov (violin I), Geza Hosszu-Legocky (violin II), Nora Romanoff (viola) & Jing Zhao (cello)

Bridge:
Cello Sonata in D minor, H125
Gautier Capucon (cello) & Gabriela Montero (piano)

Mendelssohn:
Symphony No. 1 in C minor, Op. 11
arr. Ferruccio Busoni for two pianos/eight hands
Akane Sakai (piano), Lilya Zilberstein (piano), Anton Gerzenberg (piano) & Daniel Gerzenberg (piano)

Milhaud:
La Création du Monde for piano quintet, Op. 81b
Eduardo Hubert (piano), Dora Schwarzberg (violin I), Michael Guttmann (violin II), Nora Romanoff (viola) & Mark Drobinsky (cello)

Mozart:
Piano Concerto No. 20 in D minor, K466
Martha Argerich (piano) Orchestra della Svizzera italiana, Jacek Kaspszyk

Poulenc:
Sonata for Piano Four Hands (à mademoiselle Simone Tilliard)
Martha Argerich (piano), Dagmar Clottu (piano)

Cello Sonata, Op. 143
Gautier Capucon (cello) & Francesco Piemontesi (piano0

Scriabin:
Fantasy in A minor Op. post.
Alexander Mogilevsky (piano) & Daniel Rivera (piano)

Weinberg:
Sonata for Violin & Piano No. 5, Op. 53
Gidon Kremer (violin) & Martha Argerich (piano)


Warner Classics is pleased to release the 12th annual 3CD set of highlights from the Progetto Martha Argerich in Lugano, described in The Times (London), as "community music-making on a deluxe scale, with performers and listeners mutually uplifted by music's wonders." The recordings celebrate the musical fruits of a project in which young artists join seasoned performers, including Martha Argerich herself, to explore wide-ranging chamber music and orchestral repertoire, both well-known and rarely heard.

In addition to Ms Argerich, the 2014 Festival featured long-time collaborators such as Gidon Kremer, Gabriela Montero, Mischa Maisky, Gautier Capuçon and Lilya Zilberstein, as well as many of Ms Argerich's young protégées, including pianists Anton and Daniel Gerzenberg and violinists Geza Hosszu-Logocky and Andrey Baranov, winner of the 2012 Queen Elizabeth Competition. Also featured are pianists Alexander Mogilevsky, Francesco Piemontesi, Daniel Rivera, Dagmar Clottu, Akane Sakai, Eduardo Hubert, violinists Dora Schwarzberg and Michael Guttman, violist Nora Romanoff and cellists Jing Zhao and Mark Drobinsky.

The piano has been at the heart of all Lugano Festival programmes, from the Festival's inception, in performances of standard repertoire alongside rarely heard compositions and the 2014 season was no exception. Each year the Festival includes a piano concerto with Ms Argerich as soloist and this time it is Mozart's Concerto No 20 in D minor, K466, with the Orchestra della Svizzera Italiana conducted by Jacek Kaspszyk. Argerich also performs sonatas with each of two long-standing collaborators, cellist Mischa Maisky and violinist Gidon Kremer. She joins Maisky in Beethoven's Variations on 'Bei Männern, welche Liebe fühlen' based on Papageno and Pamina's duet in Mozart's opera Die Zauberflöte and Kremer, a champion of the work of Shostakovich's younger friend and colleague Mieczysław Weinberg, in the composer's Fifth Violin Sonata.

The Swiss pianist Dagmar Clottu appears for the first time in this series, joining Argerich in Francis Poulenc's Piano Sonata for four hands. Gautier Capuçon and Francesco Piemontesi perform Poulenc's Cello Sonata and Capuçon performs the Cello Sonata in D minor by Frank Bridge with Gabriela Montero.

Other works featured include Darius Milhaud's jazzy ballet, La création du monde, performed in the composer's arrangement for piano quintet; Alexander Borodin's early Piano Quintet; Felix Mendelssohn's First Symphony, composed at the age of 15, in an arrangement by Ferruccio Busoni for four players at two pianos; and Alexander Scriabin's Fantasy in A minor, envisaged as a work for piano and orchestra but only sketched for two pianos, and neither orchestrated nor performed during his lifetime.

Few artists have nurtured and promoted emerging young musicians with the level of personal commitment shown by Martha Argerich. In the process, she has created inspired chamber music partnerships mixing established and up-and-coming artists. A legend in her own lifetime for her technical mastery and passionate artistry, Argerich possesses an infectious spirit that has fired her own performances and partnerships as well as those of her colleagues and protégées.

After setting up Meeting Point at Beppu, Japan in 1996 and the Martha Argerich Festival in Buenos Aires in 1999, the pianist decided to create a similar gathering of musical minds in Europe. The southern Swiss town of Lugano was identified as an ideal setting for a project based on the spirit of building a community of close-knit relationships among young and established artists and the Progetto Martha Argerich was launched in 2002. More than a decade later, the Festival continues to retain its original experimental 'feel' because of the original programming and the emergence of new performing talents. Geoffrey Norris in The Daily Telegraph wrote, "It is always instructive to see who has been invited to perform at the Progetto Martha Argerich in Lugano, because the cast list is a reliable guide to some of the most exciting talent in the musical world today."

The fourteenth season of the Progetto Martha Argerich will take place from 10-29 June 2015 and will include performances by many of the artists appearing on these recordings.
| | |
| --- | --- |
| Recensent | : Jan Jasper |
| Datum | : 14-05-2015 |
| verschenen in Platomania | : 318 |
| Waardering | : 8.5 |
CD/DVD gratis verzending vanaf € 25,-
Vinyl gratis verzending vanaf € 50,-
Geen verzendkosten: