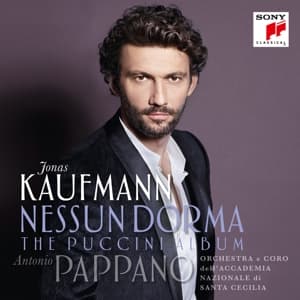 NESSUN DORMA - THE PUCCIN
Drager: CD (Aantal 1)
Levertijd: 3 a 5 werkdagen
Herkomst: NL
Releasedatum: 2-10-2015
Item-nr: 3407369
EAN: 0888750924926
RECENSIE


Een van de meest spraakmakende tenoren van dit moment is Jonas Kaufmann. Hij wordt geroemd om zijn prachtige bronzen stem. Na albums met muziek van Wagner en Verdi, komen de opera´s van Pucunni aan bod. Kaufmann zingt aria´s uit vrijwel elke opera waarin een rol voor een tenor is voorzien. Samen met Antonio Pappano, gastsoliste Kristine Opolais en het vernieuwde orkest en koor van Accademia Nazionale di Santa Cecilia brengt Kaufmann een prachtig persoonlijk Puccini-album met bij elke aria een persoonlijke impressie of ervaring. Uniek aan dit album is dat Kaufmann sommige rollen nog niet eerder heeft vertolkt. Veel indruk maakt Jonas Kaufmann als Dick Johnsons in zijn laatste scene in de nog altijd te weinig uitgevoerde opera La fanciulla del West en uiteraard ontbreekt de legendarische aria uit Turandot, Nessun Dorma, niet. Maar in elke aria laat Kaufmann zijn unieke talent horen. Aanrader!

Jonas Kaufmann: Nessun Dorma
The Puccini Album

Donna non vidi mai (from Manon Lescaut)

Oh, sarò la più bella...Tu, tu, amore? (from Manon Lescaut)
Kristine Opolais (soprano)

Ah, Manon mi tradisce (from Manon Lescaut)
Ah! Non v'avvicinate! No, pazzo son (from Manon Lescaut)
Ei giunge!...Torna ai felici di (from Le Villi)
Orgia, Chimera Dall'occhio Vitreo (from Edgar)

O soave fanciulla (from La Bohème)
Kristine Opolais (soprano)

Recondita armonia (from Tosca)
Addio, fiorito asil (from Madama Butterfly)
Una parola sola! … Or son sei mesi (from La Fanciulla del West)
Ch'ella mi creda libero e lontano (from La Fanciulla del West)
Parigi! E la citta dei desideri (from La Rondine)
Hai ben ragione (from Il tabarro)
Avete torto! (from Gianni Schicchi)
Firenze è come un albero fiorito (from Gianni Schicchi)
Non piangere, Liù! (from Turandot)
Nessun dorma (from Turandot)

Jonas Kaufmann (tenor)

Orchestra e Coro dell'Accademia Nazionale di Santa Cecilia, Antonio Pappano


Described by The Daily Telegraph as "The world's greatest tenor", Jonas Kaufmann dedicates his new album to the most popular Italian opera composer of all time, Giacomo Puccini. Featuring the most loved aria of all time, 'Nessun Dorma', alongside stunning pieces from Manon Lescaut, La Boheme, Tosca and more. Together with Jonas Kaufmann, this album includes celebrated Royal Opera House conductor Antonio Pappano and his renowned orchestra and choir of the Accademia Nazionale Di Santa Cecilia.

The roughly chronological selection of arias (including music from all of Puccini's operas barring Suor Angelica, for the very good reason that it contains no male roles) is split fairly equally between roles which Kaufmann has made his own over the past decade, and those which he's never sung on stage. Unlike his recent Verdi album, which featured several teasers of things to come, most of the latter are things he's unlikely to take on in a full production – the early operas Le Villi and Edgar get relatively few outings anyway, and few casting-directors would hire him as Rinuccio in Gianni Schicchi these days (the role's typically cast with an emerging lightish lyric tenor, though I love the hot-headed, slightly sardonic impetuosity that Kaufmann brings to his swaggering paean to the new, upwardly-mobile Florence).

There are also a couple of roles which he's more or less retired from his stage repertoire: it's good to have his mature takes on Ruggero from La Rondine (one of his breakthrough roles) and Rodolfo (clearly a bit of a player here – his suggestion that he and Mimi skip pre-Christmas drinks with friends in favour of an early night comes off with the wry charm of one who knows he's pushing his luck). But where the disc really scores is in the true spinto roles in his current repertoire: the red-hot love-scene from Manon Lescaut is if anything even more scorching than it was at Covent Garden (the DVD of this production is out next month, incidentally), and Dick Johnson's baleful farewell to life and to Minnie from La fanciulla del West is also one of the stand-outs. And what of 'Nessun dorma', the aria which Kaufmann has regarded as a sort of holy of holies until now? Well, on this evidence Calaf could well be his greatest Puccini role of the lot, and the snapshot we get here left me itching to hear him sing it complete.

Kaufmann may be an artist capable of immense interpretative subtlety, but as with his earlier discs of Verismo and Verdi he never short-changes in terms of the heart-on-sleeve theatricality that so much of this music demands. But this is no broad-brush one-size-fits-all sentimentality, and everything is done in the service of characterisation: the sobs in the voice as Pinkerton bids farewell to his glorified holiday-home in Japan underlines the feckless naval officer's melodramatic self-pity, and the breathless sotto voce as Des Grieux gets smacked by Cupid's arrow in the first track catches the young student's naïve ardour to perfection.

You'd have to try pretty hard, I think, not to enjoy this disc immensely, at least if you modify your memory to erase any traces of Pavarotti (or indeed any of Kaufmann's brighter-voiced contemporaries such as Joseph Calleja and Roberto Alagna) in this repertoire: Puccini's tenor writing is often associated with a rather more 'golden' sound than Kaufmann's essentially coppery one, but once you adjust to that everything's glorious. Roll on tomorrow evening, when Kaufmann will surely share Calaf's triumph.
| | |
| --- | --- |
| Recensent | : Wil Zenhorst |
| Datum | : 10-02-2015 |
| verschenen in Platomania | : 322 |
| Waardering | : 9.0 |
CD/DVD gratis verzending vanaf € 25,-
Vinyl gratis verzending vanaf € 50,-
Geen verzendkosten: