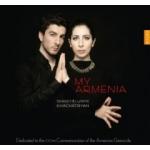 SERGEY & LUSINE KHACHATRYAN
MY ARMENIA
Drager: CD (Aantal 1)
Levertijd: Meer dan 3 weken
Herkomst: NL
Releasedatum: 31-08-2015
Item-nr: 3434090
EAN: 0822186054147
RECENSIE

Broer en zus Khachatryan hebben dit album met Armeense muziek opgenomen ter gelegenheid van de honderdste herdenking van de volkerenmoord op de Armeniërs tijdens het Ottomaanse Rijk. Zij kozen voor muziek van Komitas Vardapet (1869-1935) en Aram Kachaturian (1903-1978), toch wel de grondleggers van de Armeense componeer-school, aangevuld met stukken van een drietal twintigste eeuwse componisten. Sergey en Lusine blijken vurige (vooral hoorbaar in het stuk van Mirzoyan!) en doorleefde pleitbezorgers voor deze muziek te zijn. Sergey gaat van zeer ingetogen tot zeer expressief te werk met soms een (al te) heftig vibrato, dat gelukkig weinig afbreuk doet aan deze CD als geheel. Lusine is naast een prachtige begeleidster ook een soliste die in haar spel een parelende schoonheid combineert met mooie sonore baslijnen.

My Armenia
Dedicated to the 100th Commemoration of the Armenian Genocide

Babadzhanian:
Pictures (6)

Bagdasarian:
Rhapsody
Nocturne in A Major

Khachaturian:
Song-Poem
Sabre Dance from Gayane
Usundara from Gayane

Mirzoyan:
Introduction & Perpetuum mobile

Vardapet:
Krunk
Tsirani Tsar (The Apricot tree)
Seven Folk Dances for solo piano
Garun-a (It is spring) for solo piano

Sergey Khachatryan (violin) & Lusine Khachatryan (piano)

Dedicated to the 100th Commemoration of the Armenian Genocide, My Armenia offers a very personal, touching and brilliant tribute to Armenian music by Sergey and Lusine Khachatryan. Sergey and Lusine are regular duo partners. Together, they have given recitals at London's Wigmore Hall, Konzerthaus Dortmund, Paris Théâtre des Champs-Elysées, Madrid Auditori Nacional, Amsterdam Concertgebouw, Brussels Bozar, Luxemburg Philharmonie and New York Carnegie Hall.

'My Armenia' offers a large and heartstretching overview of the finest Armenian composers, especially those who have successfully mixed Western Europe and folk influences, such as Komitas or Khachaturian.



| | |
| --- | --- |
| Recensent | : Frits Broekema |
| Datum | : 9-02-2015 |
| verschenen in Platomania | : 321 |
| Waardering | : 8.5 |
CD/DVD gratis verzending vanaf € 25,-
Vinyl gratis verzending vanaf € 50,-
Geen verzendkosten: