Dit artikel is vervallen en niet meer leverbaar.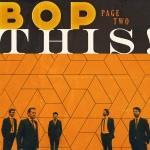 Drager: CD (Aantal 1) Levertijd: Niet meer leverbaar
Herkomst: NL Releasedatum: 23-06-2016 Item-nr: 3574475 EAN:
RECENSIE
"WOW! The recording is finished so quickly.."

These words mark the recording date of Bop This!' second album Page Two. Although in present time recording technology provide musicians endless oppurtunities to re-work and correct their recorded material, Bop This! likes to capture their sound the classic way; a few microphones set-up to record what is actually being played. One could say this recording technique is like taking a photograph instead of creating a painting. These five young individuals believe in the strength of the truth. Nothing more, nothing less.

Inspired by the great music of their predecessors such as Art Blakey & the Jazz Messengers, Hank Mobley, Freddie Hubbard and many more the band likes to pay tribute to the giants but also 'stand on their shoulders and see further', as the great tenor saxophonist Wayne Shorter said in a recent interview.

The music on this album contains 8 originals by the band members.
What you will find on this album are five young musicians, each original and in the prime of their carreers to show that Jazz is alive. They show that together they are more that the sum of parts. Page Two might not mean too much while reading a book, in the Amsterdam Jazz scene it'll do most certainly.



| | |
| --- | --- |
| Recensent | : Redactie |
| Datum | : 30-06-2016 |
| Waardering | : 7.5 |
CD/DVD gratis verzending vanaf € 25,-
Vinyl gratis verzending vanaf € 50,-
Geen verzendkosten: