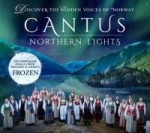 Drager: CD (Aantal 1)
Levertijd: Op werkdagen voor 16:00 besteld, morgen in huis
Herkomst: NL
Releasedatum: 12-05-2017
Item-nr: 3639903
EAN: 0028948148141
RECENSIE

Cantus: Northern Lights

Fjellheim:
Vuelie
Dona Nobis Pacem
Northern Lights
Winter's Night
Sacred
Aejlies
Njoktje
Kyrie
Mu Vaibmu
Psalm
Pater Noster
Night Yoik

Cantus


Cantus sang the opening track 'Vuelie' on the soundtrack of Disney's Frozen, the highest grossing animated film of all time. The Norwegian all-female choir are ranked as one of the leading choirs in the world by Interkulture.

Made up of 30 singers from Trondheim, members are aged between 20 and 40, and range from students to nurses, to firefighters, teachers and architects.

Their outfits - called Bunads - inspired the costumes in Frozen.

Cantus are an all-female choir, led by a female conductor.
| | |
| --- | --- |
| Recensent | : Redactie |
| Datum | : 14-05-2017 |
| verschenen in Platomania | : 338 |
| Waardering | : 8.5 |
CD/DVD gratis verzending vanaf € 25,-
Vinyl gratis verzending vanaf € 50,-
Geen verzendkosten: