Dit artikel is vervallen en niet meer leverbaar.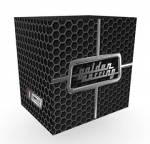 GOLDEN EARRING
COMPLETE STUDIO..
Drager: CD (Aantal 29) Levertijd: Niet meer leverbaar
Herkomst: NL Releasedatum: 17-02-2017 Item-nr: 3644966 EAN: 0602557194418
Disc 1
Nobody But You
I Hate Saying These Words
She May Be
Holy Witness
No Need To Worry
Please Go
Sticks And Stones
I Am A Fool
Don't Stay Away
Lonely Everyday
When People Talk
Now I Have
Disc 3
The Truth About Arthur
Circus Will Be In Town
Crystal Heaven
Sam And Sue
I've Just Lost Somebody
Mr. Fortune's Wife
Who Cares?
Born A Second Time
Magnificient Magistral
Must I Cry?
Nothing Can Change This World Of Mine
Gipsy Rhapsody
Disc 5
Landing
Song Of A Devil's Servant
One Huge Road
Everyday's Torture
Eight Miles High
Disc 7
Silver Ships
The Road Swallowed Her Name
Hope
Don't Worry
Long Version
This Is The Other Side Of Life
You're Better Off Free
Disc 9
Candy's Going Bad
Are You Receiving Me
Suzy Lunacy (Mental Rock)
Single
Just Like Vince Taylor
The Vanilla Queen
Disc 11
Why Me?
Facedancer
To The Hilt
Nomad
Sleepwalkin'
Latin Lightning
Violins
Disc 13
Roxanne
Leather
Tempting
U-Turn Time
Movin' Down Life
Against The Grain
Grab It For A Second
Cell-29
Disc 15
Long Blond Animal
No For An Answer
My Town
Prisoner Of The Night
I Don't Wanna Be Nobody Else
Cut'em Down To Size
Will & Mercy
Come In Outerspace
Going Crazy Again
Disc 17
Clear Night Moonlight
When The Lady Smiles
Enough Is Enough
Fist In Glove
Single Version
N.e.w.s.
I'll Make It All Up To You
Mission Impossible
It's Over Now
Disc 19
Can Do That
Too Much Woman (Not Enough Girl)
One Word
Keeper Of The Flame
Turn The World Around
Circles
Say My Prayer
Distant Love
Nighthawks
My Killer My Shadow
Disc 21
Angel
Hold Me Now
Liquid Soul
Minute By Minute
Johnny Make Believe
Space Ship
The Unforgettable Dream
I Can't Do Without Your Kiss
Freedom Don't Last Forever
Maximum Make-Up
Legalize Telepathy
Disc 23
Paradise In Distress
Apocalyps
Evil Love Chain
Darling
Close My Eyes
The Fighter
One Night Without You
Whisper In A Crowd
Deja Voodoo
Bad News To Fall In Love (With A Mean Motherfucker)
42Nd Street
Fluid Conduction
Desperately Trying To Be Different
Gambler's Blues
Disc 25
Identical
Little Time Bomb
Cool As It Gets
Acrobats And Clowns
What Do I Know About Love
Still Got The Keys To My First Cadillac
Dope Runner
This Love
Stratosphere
Over The Cliff Into The Deep Deep Blue
Flowers In The Mud
Justin Time
Avenue Of Broken Dreams
Wanted By Women
Disc 27
Chunk Of Steel
That Day
The Words I Need
If You Leave Me
Waiting For You
Things Go Better
Rum And Coca-Cola
Daddy Buy Me A Girl
What You Gonna Tell
Don't Run Too Far
Wings
Sound Of The Screaming Day
She Won't Come To Me
Together We Live, Together We Love
Dong-Dong-Di-Ki-Di-Gi-Dong
Breakfast
Where Will I Be
It's Alright But I Admit It Could Be Better
Disc 29
King Dark
Shadow Avenue
Something Heavy Going Down
Gimme A Break
You Gun My Love
Time Warp
Steam Roller
Madame Zou Zou
So You Want To Be A Rock 'n' Roll Star / L.a. Woman
Try A Little Tenderness
Burning Stuntman
Mood Indigo
Miles Away From Nowhere
Yes, We're On Fire
Gypsy Rose
Non Album Track
Disc 2
Another Man In Town
Smoking Cigarettes
In My House
Don't Wanna Loose That Girl
Impeccable Girl
Tears And Lies
You've Got The Intention To Hurt Me
Dream
You Break My Heart
Baby Don't Make Me Nervous
Call Me
Happy And Young Together
Lionel The Miser
There Will Be A Tomorrow
Disc 4
Song Of A Devil's Servant
Angelina
Pam Pam Poope Poope Loux
Hurry, Hurry, Hurry
My Baby Ruby
Judy
Goodbye Mama
Murdock 9-6182
Just A Little Bit Of Peace In My Heart
The Sad Story Of Sam Stone
High In The Sky
Remember My Friend
Time Is A Book
Backbiting Baby
I'm A Running
I Sing My Song
Mitch Mover
God Bless The Day
The Grand Piano
Disc 6
Yellow And Blue
The Loner
This Is The Time Of The Year
Big Tree Blue Sea
The Wall Of Dolls
Back Home
See See
I'm Going To Send My Pigeons To The Sky
As Long As The Wind Blows
Disc 8
All Day Watcher
Avalanche Of Love
Cruisin' Southern Germany
Brother Wind
Buddy Joe
Jangalene
From Heaven From Hell
Thousand Feet Below You
Disc 10
Intro: Plus Minus Absurdio
Love Is A Rodeo
The Switch
Kill Me (Ce Soir)
Tons Of Time
Daddy's Gonna Save My Soul
Troubles And Hassles
Lonesome D.j.
Disc 12
Bombay
Sueleen
Con Man
Mad Love's Comin'
Fightin' Windmills
Faded Jeans
Time's Up
Disc 14
Heart Beat
Need Her
Sellin' Out
Snot Love In Spain
Save Your Skin
D Light
Tiger Bay
Weekend Love
Don't Close The Door
Don't Stop The Show
By Routes
Disc 16
The Devil Made Me Do It
Future
Baby Dynamite
Last Of The Mohicans
Lost And Found
Album Version
Chargin' Up My Batteries
Secrets
Disc 18
They Dance
Quiet Eyes
Save The Best For Later
Have A Heart
Love In Motion
Jane Jane
Jump And Run
Why Do I
A Shout In The Dark
Disc 20
Making Love To Yourself
Temporary Madness
Going To The Run
Joe
Planet Blue
Bloody Buccaneers
One Shot Away From Paradise
When Love Turns To Pain
In A Bad Mood
Pouring My Heart Out Again
Disc 22
When I Was Young
Darkness, Darkness
Gotta See Jane
My Little Red Book
Sail On Sailor
Motorbikin'
I'll Be Back Again
This Wheel's On Fire
Ballad Of A Thin Man
Collage
Move Over
Who Do You Love
Turn The Page
Disc 24
Album Version
Album Version
Album Version
Album Version
Album Version
Album Version
Album Version
Album Version
Album Version
Album Version
Album Version
Album Version
Album Version
Disc 26
Je Regrette
That's Why I Believe In Her
My Lips Are Sealed
Did I Make You Up
Come On Home
Disc 28
Single
I Can't Get A Hold On Her
Holy Holy Life
Jessica
Stand By Me
The Song Is Over
Instant Poetry
Lucky Number
Babylon
I Need Love
Can't Talk Now
Only A Matter Of Time
I Do Rock 'n Roll
Triple Treat
Annie
RECENSIE
In 2015 bestond Nederlands grootste rockband vijftig jaar en dat werd destijds gevierd met een jubileumconcert, een nieuw mini-album The Hague en een vier cd's en een dvd tellend carrièreoverzicht. Ondertussen bestaat de Golden Earring alweer 52 jaar en gaat de band onverdroten voort met optreden. Ook voor dit jaar staat weer een hele lijst concerten gepland. Over een eventuele opvolger van Tits 'n' Ass uit 2012 valt helaas nog niet wat te melden, maar wie zijn verzameling nog niet compleet heeft, kan nu zijn lol op met de Complete Studio Recordings. Een monumentale box met maar liefst 307 nummers verdeeld over 29 cd's. Van Just Ear-Rings (1965) tot en met The Hague bevat deze box alle studioalbums, plus drie schijven vol liedjes die niet op de officiële albums staan en in een aantal gevallen zelfs lastig te vinden zijn. Alle albums zijn voorzien van liner notes van muziekjournalist Tjerk Lammers die in het jubileumjaar ook al een leuk boek met verzamelde interviews samenstelde. Voor de fanatieke fans zal deze box verder niet veel nieuws bevatten, maar voor nauwelijks vier euro per schijf is dit met eindeloos veel prachtige muziek gevulde monument in veel opzichten een koopje.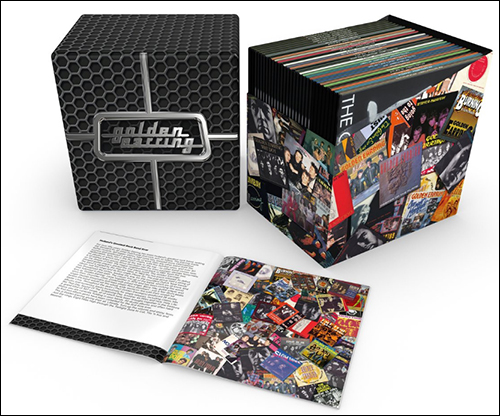 | | |
| --- | --- |
| Recensent | : Marco van Ravenhorst |
| Datum | : 20-01-2017 |
| verschenen in Platomania | : 334 |
| Waardering | : 8.0 |
CD/DVD gratis verzending vanaf € 25,-
Vinyl gratis verzending vanaf € 50,-
Geen verzendkosten: