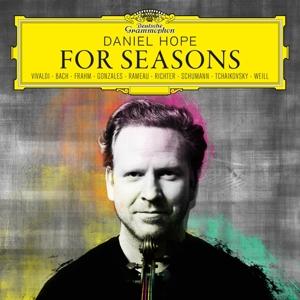 Drager: CD (Aantal 1)
Levertijd: Op werkdagen voor 16:00 besteld, morgen in huis
Herkomst: NL
Releasedatum: 3-03-2017
Item-nr: 3646977
EAN: 0028947969228
1. Allegro (Concerto In E Major "la Primavera", Op. 8, No. 1, Rv 269)
2. Largo (Concerto In E Major "la Primavera", Op. 8, No. 1, Rv 269)
3. Allegro (Concerto In E Major "la Primavera", Op. 8, No. 1, Rv 269)
1. Allegro Non Molto (Concerto In G Minor "l'estate", Op. 8, No. 2, Rv 315)
2. Adagio (Concerto In G Minor "l'estate", Op. 8, No. 2, Rv 315)
3. Presto (Concerto In G Minor "l'estate", Op. 8, No. 2, Rv 315)
1. Allegro (Concerto In F Major "l'autunno", Op. 8, No. 3, Rv 293)
2. Adagio Molto (Concerto In F Major "l'autunno", Op. 8, No. 3, Rv 293)
3. Allegro (Concerto In F Major "l'autunno", Op. 8, No. 3, Rv 293)
1. Allegro Non Molto (Concerto In F Minor "l'inverno", Op. 8, No. 4, Rv 297)
2. Largo (Concerto In F Minor "l'inverno", Op. 8, No. 4, Rv 297)
3. Allegro (Concerto In F Minor "l'inverno", Op. 8, No. 4, Rv 297)
Ambre (Arr. By Christian Badzura)
Danse Des Sauvages (Entrée Iv)
Spring 1 (Recomposed By Max Richter: Vivaldi, The Four Seasons)
Avril 14Th (Arr. By Christian Badzura)
Amazing Grace (Arr. By Daniel Hope And Dom Bouffard)
June (Arr. By Daniel Hope & Jacques Ammon)
12. Am Leuchtenden Sommermorgen (Arr. By Daniel Hope)
Les Doutes D'août
September Song (Arr. Paul Bateman)
Aria Ii: Lento E Sempre Piano (Concerto Pastorale In G Major)
Aria "bete Aber Auch Dabei" (Original Version)
Wintermezzo
Guten Abend, Gut Nacht (Arr. By Daniel Hope)
RECENSIE


In navolging van Max Richter stelt Daniel Hope zijn eigen jaargetijdenalbum samen. Met het Zürcher Kammerorchester speelt Hope de twaalf delen van Vivaldi's vier jaargetijden op moderne instrument. Vervolgens voert hij voor elke maand een karakteristiek werk van hedendaagse en oude componisten uit. Een uniek album waarbij werken van Nils Frahm en Aphex Twin samenkomen met werken van Vivaldi, Rameau, Schumann en Tschaikovsky. Het resultaat is een prachtig album met veelzijdige muziek die bij de verschillende seizoenen uitstekend past.

For Seasons


Bach, J S:
Cantata BWV115 'Mache dich, mein Geist, bereit': Bete aber auch dabei!

Brahms:
Wiegenlied, Op. 49 No. 4 (Lullaby)
arr. Daniel Hope

Frahm, N:
Ambre
arr. Christian Badzura

Gonzales, Chilly:
Les doutes d'août
featuring Chilly Gonzales

Wintermezzo
featuring Chilly Gonzales

Molter:
Concerto pastorale in G major: Lento e sempre piano

Rameau:
Les Indes galantes: Air pur les Sauvages

Richter, Max:
O Spring

Schumann:
Am leuchtenden Sommermorgen (No. 12 from Dichterliebe, Op. 48)
arr. Daniel Hope

Tchaikovsky:
The Seasons, Op. 37b: June (Barcarolle)
arr. Daniel Hope/Jacques Ammon

trad.:
Amazing Grace
arr. Daniel Hope/Dom Bouffard

Twin:
Avril 14th
arr. Christian Badzura

Vivaldi:
The Four Seasons

Weill, K:
September Song

Daniel Hope (violin)
Zürcher Kammerorchester, Kaiser Quartett


Combination of all-time classical favorites in edgy interpretations and post classical pieces by leading composers, in brand new arrangements.

Following the successes of Richter's Vivaldi Recomposed, for the first time, Daniel has recorded the original Vivaldi Four Seasons!

To complement the Four Seasons, the album includes a selection of short pieces that are dedicated to each months of the year, spanning from neo-classical hits by Aphex Twin, Nils Frahm, Max Richter or Chilly Gonzales to romantic pieces by Brahms and Schumann.
| | |
| --- | --- |
| Recensent | : Wil Zenhorst |
| Datum | : 3-03-2017 |
| verschenen in Platomania | : 336 |
| Waardering | : 8.5 |
CD/DVD gratis verzending vanaf € 25,-
Vinyl gratis verzending vanaf € 50,-
Geen verzendkosten: