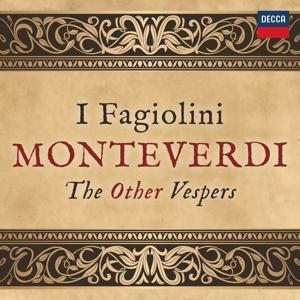 MONTEVERDI THE OTHER VESPERS
Drager: CD (Aantal 1)
Levertijd: Op werkdagen voor 16:00 besteld, morgen in huis
Herkomst: NL
Releasedatum: 28-04-2017
Item-nr: 3665102
EAN: 0028948316540
RECENSIE



Monteverdi: The Other Vespers


Castello, D:
Sonata in D minor

Donati, I:
Dulcis amor Iesu

Frescobaldi:
Toccata terza (1615)

Gabrieli, G:
Magnificat a14

Monteverdi:
Dixit Dominus II
Confitebor tibi Domine (Secondo)
Beatus vir (from Selva Morale e Spirituali)
Laudate pueri
Laudate Dominum
Ut queant laxis from Selva morale e spirituale
Salve, O Regina

Palestrina:
Ave Verum

Usper:
Sonata à 8

Viadana:
Deus in adiutorium meum

I Fagiolini, Robert Hollingworth


Celebrating Monteverdi's 450th anniversary - a key new release in this Monteverdi year.

Forming a response to Monteverdi's timeless masterpiece Vespro della Beata Vergine (1610), these Other Vespers are centred around works from the end of his life, in 1640 following 23 years as maestro at St. Mark's Venice. Including the celebrated Beatus vir.

A truly Venetian Vespers, arranged in a setting that could have been performed in Venice in Monteverdi's time, with his sacred choral works alongside music of his contemporaries.

Culminating in Giovanni Gabrieli's powerful and moving Magnificat in 14 parts: for three separate 'choirs'.

To coincide with I Fagiolini's 30th anniversary: the ensemble has always enjoyed a close association with Monteverdi.

Robert Hollingworth is a Monteverdi specialist; this is an authentic take on the repertoire, including the incredible soundworld of the cornetto muto alongside four male voices of I Fagiolini, in the Palestrina/Bovicelli Ave verum corpus - the first recording of such a reconstruction.

| | |
| --- | --- |
| Recensent | : Redactie |
| Datum | : 14-05-2017 |
| verschenen in Platomania | : 338 |
| Waardering | : 8.5 |
CD/DVD gratis verzending vanaf € 25,-
Vinyl gratis verzending vanaf € 50,-
Geen verzendkosten: