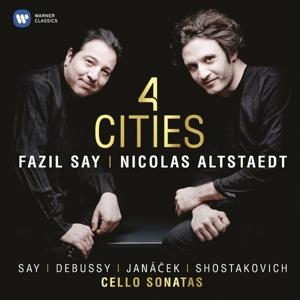 Drager: CD (Aantal 1)
Levertijd: Op werkdagen voor 16:00 besteld, morgen in huis
Herkomst: NL
Releasedatum: 24-02-2017
Item-nr: 3666694
EAN: 0190295867249
RECENSIE


Fazil Say is niet alleen een uitstekende pianist die zowel de westerse als oosterse muziekliteratuur beheerst, maar hij is ook een begenadigd componist. Dat kun je goed horen in het werk 4 Cities dat hij voor the City of London Festival 2012 schreef. In deze eerste opname van 4 Cities speelt Fazil Say zelf de piano. Say geeft de cello van Nicolas Altstaedt soms ongewone rollen als percussie instrument en fluit. 4 Cities is een eigentijdse dynamische impressie van Sivas, Hopa, Ankara en Bodum, waarin de jonge Say zijn herinneringen aan deze verschillende steden memoreert. Het album bevat verder voortreffelijke uitvoeringen van werken voor cello en piano van Claude Debussy, Leos Janacek en Dmitri Shostakovich.

4 Cities

Debussy:
Cello Sonata

Janacek:
Pohádka (Fairy Tale) for Cello and Piano

Say:
Four Cities

Shostakovich:
Cello Sonata in D minor, Op. 40


Nicolas Altstaedt (cello), Fazil Say (piano)


"4 Cities is a dive into the world of poetry, mysticism, into the history, the secrets and passions of the Orient.I have never been more fascinated exploring the miracles and the stories of people's daily life challenging the limits of my own instrument. The cello is

transformed into a flute, a fiddle, a percussion instrument until it becomes the voice of the people inviting us to a world that feels closer to us than ever before having encountered it through its music." Nicolas Alstaedt

This bracingly eclectic recital opens with Fazıl Say's Four Cities, a musical celebration of four Turkish locations the composer describes as "full of personal memories". Originally a BBC commission, it was premiered in June 2012 during the City of London Festival by Nicolas Altstaedt and José Gallardo.
| | |
| --- | --- |
| Recensent | : Wil Zenhorst |
| Datum | : 23-02-2017 |
| verschenen in Platomania | : 336 |
| Waardering | : 8.5 |
CD/DVD gratis verzending vanaf € 25,-
Vinyl gratis verzending vanaf € 50,-
Geen verzendkosten: