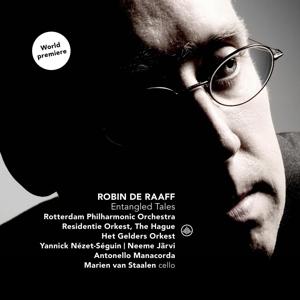 Drager: CD (Aantal 1)
Levertijd: 3 a 5 werkdagen
Herkomst: NL
Releasedatum: 10-03-2017
Item-nr: 3668056
EAN: 0608917274721
RECENSIE
Hoewel de titel van dit album doet vermoeden, is korte titelstuk niet de hoofdmoot van dit album. Ook het voorafgaande celloconcert roept vooral bewondering op, zonder de luisteraar echt te raken. Nu is dat ook niet primair het doel van de complexe en hechte composities van Robin de Raaf. Het belangrijkste werk hier is de derde symfonie, strak uitgevoerd door Het Gelders Orkest dat voor het 125jarig jubileum De Raaff ook al de opdracht voor zijn tweede symfonie gaf. Vanuit de ijle eerste noten bouwt De Raaff een indringende klankenwereld op die moeizaam al haar geheimen prijsgeeft, maar meteen intrigeert.




Robin de Raaff: Entangled Tales

Raaff:
Cello Concerto
Marien van Staalen (cello)

Entangled Tales

Symphony No. 3 'Illumination...Eclipse'

Rotterdam Philharmonic Orchestra, Residentie Orkest & Het Gelders Orkest, Yannick Nézet-Séguin & Neeme Järvi


Marien van Staalen on the Cello Concerto: This cello concerto is a miracle, both for the listener and for the soloist. The listener is swept along through unexplored terrain. The instrumentation stands out – even for a master like Robin. For a cello, Robin's concerto is innovative and challenging from a technical point of view. The premiere with Yannick and the orchestra was like a celebration – you can hear it. New work only reveals its secrets after a lot of listening, so it is fantastic that this recording is being made.

Entagled Tales: In the summer of 2007, Robin de Raaff wrote Entangled Tales for the Boston Symphony Orchestra. Entangled Tales is built up of several layers. It is a continual variation of small elements: rhythms, brief melodies, and ever-changing sounds in the rich palette of a large symphony orchestra. He does not hesitate to use an opulent instrumentation in impressionist and expressionist sphere.

Symphony no. 3: For the occasion of its 125th anniversary in 2015, the Het Gelders Orkest asked Robin de Raaff to write a special composition. The result is a symphony of three movements on the concepts of light and dark, referred to as illumination and eclipse. These words do not point to a state of being, but to motion. It is not just about states – light and dark – but also about motion: illumination and eclipse.
| | |
| --- | --- |
| Recensent | : Henri Drost |
| Datum | : 21-04-2017 |
| verschenen in Platomania | : 337 |
| Waardering | : 8.5 |
CD/DVD gratis verzending vanaf € 25,-
Vinyl gratis verzending vanaf € 50,-
Geen verzendkosten: