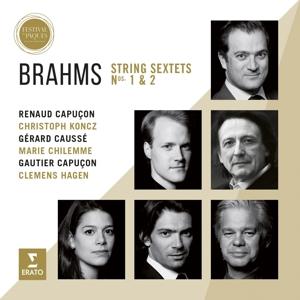 Drager: CD (Aantal 1)
Levertijd: 3 a 5 werkdagen
Herkomst: NL
Releasedatum: 6-04-2017
Item-nr: 3678413
EAN: 0190295888374
RECENSIE
Toen Johannes Brahms (1833-1897) zevenentwintig, respectievelijk eenendertig was, componeerde hij met het nog steeds aanwezige jeugdig elan zijn twee strijksextetten. In deze uitstekende 'live'-opname tijdens het Aix-en-Provence Easter Festival 2016, wordt dat jeugdig elan en Brahms' verbeeldingskracht hier door de zes topmusici zeer meeslepend verklankt. En dat dit een 'live'-opname betreft, zorgt bij de luisteraar toch voor een extra dimensie. Mij is niet bekend hoe vaak deze muzikanten samenspelen, maar de onderlinge balans in alle geledingen van dit vrienden-sextet is verbazingwekkend mooi, waarbij de fijnzinnige frasering af en toe voor adembenemende momenten zorgt in deze toch al prachtige muziek.



Brahms: String Sextets Nos. 1 & 2
Live from Aix Easter Festival 2016

Brahms:
String Sextet No. 1 in B flat major, Op. 18
String Sextet No. 2 in G major, Op. 36

Renaud Capuçon, Christoph Koncz (violins), Gérard Caussé, Marie Chilemme (violas) & Gautier Capuçon, Clemens Hagen (cellos)



For the first time since their recording of Saint-Saëns La Muse et le Poète in 2013, the French brothers reunite for a recording of two of the great pillars of Romantic chamber music – Brahms' string sextets. At the peak of the musical powers, they both appear regularly throughout the world on all the major concert hall platforms. Alongside their solo careers, performing chamber music with friends has always been an important part of their lives, and here they are joined by Austrian violinist Christoph Koncz, French violists Marie Chilemme and Gérard Caussé, and Austrian cellist Clemens Hagen. The album was recorded live at the Aix Easter Festival 2016.

The sextets are amongst the most joyful and skilfully-written works of the Romantic chamber music canon. While his own voice as a composer can clearly be heard, outside influences from the great Classical era composers such as Schubert and Beethoven are also in evidence.

The second sextet was written around the time Brahms became close to a young singer called Agathe von Siebold, so close in fact that many of their acquaintances thought they would eventually marry. Brahms however refused to be tied down and Agathe broke off the relationship. Near the end of the exposition of the first movement, the first and second violins together spell "Agathe" by playing the notes A-G-A-D-H-E, leading many to deem this work as dedicated to her. After completing the work Brahms wrote to a friend, "Here I have freed myself from my last love."
| | |
| --- | --- |
| Recensent | : Frits Broekema |
| Datum | : 4-01-2017 |
| verschenen in Platomania | : 338 |
| Waardering | : 8.5 |
CD/DVD gratis verzending vanaf € 25,-
Vinyl gratis verzending vanaf € 50,-
Geen verzendkosten: