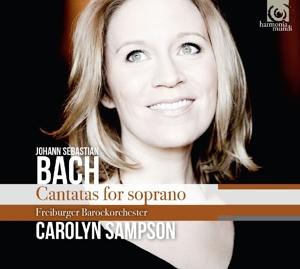 CAROLYN SAMPSON & FREIBURG BAROCKOR
CANTATAS FOR SOPRANO
Drager: CD (Aantal 1)
Levertijd: Op werkdagen voor 16:00 besteld, morgen in huis
Herkomst: NL
Releasedatum: 21-04-2017
Item-nr: 3679310
EAN: 3149020225226
RECENSIE

Een nog jonge Johann Sebastiaan Bach schreef tijdens zijn verblijven in Köthen en Weimar fraaie wereldlijke solocantates. Zijn Köthense periode beschreef hij later zelf als zijn gelukkigste. De cantates vragen kleine bezettingen, gericht op de toepassing voor meer burgerlijke uitvoeringen, waarvan de bruiloftscantate een voorbeeld is. De Britse sopraan Carolyn Sampson, die ook regelmatig in Nederland optreedt, heeft een brede ervaring in zingen van barokmuziek. Met haar warme ronde stem geeft ze de noten van Bach een extra dimensie. Jammer dat op de voorkant van de hoes de naam van bas-bariton Andreas Wolf ontbreekt, die met haar de tweede van de drie cantates ten gehore brengt.



b>JS Bach: Cantatas for Soprano

Bach, J S:

Cantata BWV202 'Weichet Nur, betrübte Schatten' (Wedding Cantata)

Cantata BWV152 'Tritt auf die Glaubenbahn'
Andreas Wolf (bass-baritone)

Cantata BWV199 'Mein Herze schwimmt im Blut'

Carolyn Sampson (sopraan), Freiburger Barockorchester, Petra Müllejans


For biographer Philipp Spitta, Bach's period as organist and later Konzertmeister to the Duke of Weimar (1708-17) was the time of his 'early mastery'. Nowhere is this more evident than in the small but highly distinguished body of cantatas he wrote there, whether for the court chapel – the Himmelsburg or 'Castle of Heaven' – or for some clearly very joyful wedding (BWV202). From the ravishing duets for soprano and oboe of the latter to the penitential strains of BWV199, the radiant voice of Carolyn Sampson and the virtuosos of the Freiburger Barockorchester do full justice to Bach's inventiveness.

Soprano Carolyn Sampson has been proclaimed "the best British early music soprano by some distance" by the editors of Gramophone. A native of Bedford, she studied voice with Richard Smart at the University of Birmingham, and made her debut with the English National Opera in a production of Monteverdi's L'incoronazione di Poppea and continues to appear with this company with regularity in addition to appearances at the Paris Opera. The vast majority of Sampson's singing has been heard in concert engagements with period ensembles, and by 2006 she had appeared with most of the best-known groups of this sort, but especially the King's Consort, Collegium Vocale, and Ex Cathedra. Sampson has recorded extensively for the Hyperion, BIS, Harmonia Mundi, and Deux-elles labels.
| | |
| --- | --- |
| Recensent | : Peter Simmers |
| Datum | : 5-05-2017 |
| verschenen in Platomania | : 338 |
| Waardering | : 9.0 |
CD/DVD gratis verzending vanaf € 25,-
Vinyl gratis verzending vanaf € 50,-
Geen verzendkosten: