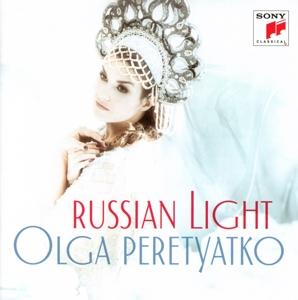 Drager: CD (Aantal 1)
Levertijd: Op werkdagen voor 16:00 besteld, morgen in huis
Herkomst: NL
Releasedatum: 9-06-2017
Item-nr: 3696978
EAN: 0889853522323
RECENSIE
Op Russian Light presenteert de sopraan Olga Peretyatko haar favoriete aria's en liedjes uit haar vaderland Rusland van Glinka, Rimski-Korsakov, Rachmaninov, Stravinsky en Sjostakovitsj. Velen zijn goed bekend. Wij horen ook minder bekende zeldzame juweeltjes op dit fascinerende album. Peretyatko heeft een prachtig zilveren timbre en solide beheersing van de coloratuur. Verder een goede keus het voor dit soort repertoire erg geschikte Ural Philharmonic Orchestra behorend tot de beste orkesten van Rusland.
De belangrijkste focus bestaat uit opera fragmenten welke zo kenmerkend zijn geweest voor Ruslands nationale muziek. Zoals de Ludmila aria uit Ruslan van Glinka of de Snow Maiden Aria uit de gelijknamige opera van Rimsky-Korsakov.
Stravinsky's Nightingale's Song klinkt werkelijk als een nachtegaal! Vocalise van Rachmaninov is een kippevel moment! Met twee stukken uit Moskou van Sjostakovitsj sluiten wij op vrolijke wijze af.



Russian Light

Glinka:
Grustno mne, roditel' dorogoy! (from Ruslan and Lyudmila)

Rachmaninov:
Spring torrents, Op. 14 No.11
Vocalise, Op. 34 No. 14
Ne poy, krasavitsa, pri mne, Op. 4 No. 4
How fair this spot, Op. 21 No. 7

Rimsky Korsakov:
Hymn to the Sun
Snow Maiden's aria (from The Snow Maiden)
Lullaby of Volkhova (from Sadko)
Marfa's Scene & Aria: In Novgorod from The Tsar's Bride
Eastern Song: Enslaved by the rose, the nightingale Op. 2 No. 2

Shostakovich:
Ya v shkolu kogda-to khodila (from Cheryomushki)
Chasy na ploshchadi zazhglis (from Cheryomushki)

Stravinsky:
Nightingale's Song (from The Nightingale)


Olga Peretyatko (soprano)
Ural Philharmonic Orchestra, Dimitri Liss


On her new album "Russian Light", Olga Peretyatko presents favourite arias and songs from her homeland Russia – by Glinka, Rimsky-Korsakov, Rachmaninov, Stravinsky and Shostakovich. Many of them are well known (Rachmaninov's Vocalise) but there are also unknown rare jewels on the album like the songs from Rachmaninov or the opera arias by Shostakovich. She teamed with the Ural Philharmonic Orchestra, one of the best orchestras in Russia, and excellent for this kind of repertoire with conductor Dimitry Liss, specialist for this repertoire.

The main focus of "Russian Light" falls on excerpts from operas that have left a deep imprint on Russia's national music. Among these are Glinka's Ruslan and Ludmila as well as Rimsky-Korsakov's The Golden Cockerel, The Snow Maiden and The Tsar's Bride. The latter piece represents a personal triumph for Ms Peretyatko, for she sang the role of Marfa under Daniel Barenboim to open the 2013 season at the Berlin State Opera. With her silvery timbre and solid mastery of coloratura she thrilled not only the audience but the critic of Der Tagespiegel: "Olga Peretyatko projects Marfa as a being so delicate and other-worldly that it strikes the knowledgeable listener to the core."

Other excerpts on "Russian Light" are taken from operas by Stravinsky and Shostakovich that likewise accompanied Ms Peretyatko on her rise to stardom. In 2009 she stepped in at short notice for an indisposed colleague to sing the role of Lidochka in Shostakovich's operetta Moscow, Cheryomushki at the Opéra de Lyon. Though she had only two days' time before the première, she won acclaim for her breathtaking character depiction. In 2010 she sang The Nightingale in Stravinsky's like-named opera (Le Rossignol) at the festival in Aix-en-Provence. When the production was mounted in New York and Canada the North American critics went wild about her effortless presentation and the "fresh sound of her voice".
| | |
| --- | --- |
| Recensent | : Jan Jasper |
| Datum | : 7-07-2017 |
| verschenen in Platomania | : 340 |
| Waardering | : 9.0 |
CD/DVD gratis verzending vanaf € 25,-
Vinyl gratis verzending vanaf € 50,-
Geen verzendkosten: