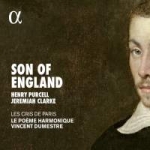 CRIS DE PARIS/POEME HARMONIQUE
SON OF ENGLAND
Drager: CD (Aantal 1 )
Levertijd: Op werkdagen voor 16:00 besteld, morgen in huis
Herkomst: NL
Releasedatum: 25-05-2015
Item-nr: 3706133
EAN: 8718456068193
RECENSIE
Henri Purcell (1659-1695) wordt geboren in een roerige tijd. Cromwell had de monarchie afgeschaft. Bij zijn aantreden als koning herstelt Charles II de koorcultuur in ere. Door zijn composities levert Purcell hieraan een belangrijke bijdrage zodat hij uitgroeit tot son of England. Op de plotseling dood van Purcell volgt een grootse begrafenis, met bijzetting in de Westminster Abbey. Generatiegenoot Jeremiah Clarke schrijft Ode on the death of Henry Purcell, een miniopera die in vergetelheid is geraakt. Naast dit prachtige werk vertolken de Franse gezelschappen Le Poème Harmonique en Les Cris de Paris onder leiding van Vincent Dumestre uitstekend de Funeral sentence for the death of Queen Mary II, die Purcell kort voor zijn overlijden schreef. Het programma wordt besloten met Welcome to all the pleausures, dat Purcell ter ere van Sint Cecilia, de patrones van de muziek.


Son of England - Music by Jeremiah Clarke & Purcell

Clarke, Jeremiah:
Ode On The Death Of Henry Purcell

Purcell:
Music for the Funeral of Queen Mary, 1695: Funeral Sentences
Welcome to all the pleasures (from Ode for St Cecilia's Day 1683), Z339

Katherine Watson, Nicholas Tamagna, Jeffrey Thompson, Geoffroy Buffière
Le Poème Harmonique, Les Cris de Paris, Vincent Dumestre, Geoffroy Jourdainy



Henry Purcell died on 21 November 1695 at the age of thirty-six. The music he had written for the funeral of Queen Mary only eight months earlier was performed again for his burial service. Soon afterwards, several composers paid tribute to Purcell by writing odes in his memory. Jeremiah Clarke's homage to 'Orpheus Britannicus' in his Ode on the Death of Henry Purcell is a deeply moving token of the younger composer's admiration. Alas, Clarke too was destined to die in his prime, and we can only imagine what the destiny of British music might have been if their lives had been prolonged. After an acclaimed production of Dido and Aeneas, Vincent Dumestre and Le Poème Harmonique continue their exploration of the world of Purcell and seventeenth-century English music. Constantly keeping an ear out for multiple musical ramifications, from Dowland to Lully by way of the Elizabethan masques, this new programme spotlights the genius of Jeremiah Clarke, whose sadly premature death makes us regret all the marvels he might have produced. Here is a collection of masterpieces coupling two of Purcell's most popular works with an exceptional discovery.
| | |
| --- | --- |
| Recensent | : Wil Zenhorst |
| Datum | : 6-02-2017 |
| verschenen in Platomania | : 338 |
| Waardering | : 8.5 |
CD/DVD gratis verzending vanaf € 25,-
Vinyl gratis verzending vanaf € 50,-
Geen verzendkosten: