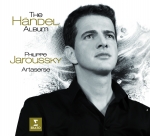 Drager: CD (Aantal 1)
Levertijd: Op werkdagen voor 16:00 besteld, morgen in huis
Herkomst: NL
Releasedatum: 29-09-2017
Item-nr: 3740808
EAN: 0190295774455
RECENSIE


Met grote regelmaat worden de opera's van Händel op de planken gebracht, maar vaak gaat het daarbij om dezelfde, terwijl Händel maar minstens 35 opera's naliet. Countertenor Philippe Jaroussky, die op dit album ook het Ensemble Artaserse dirigeert, focust op dit album daarom om de minder bekende opera's. Dus geen Giulio Cesare of Ariodante, maar aria's uit Amadigi di Gaula, Arianna in Creta, Flavio, re di Longobardi, Giustino, Imeneo, Radamisto, Riccardo, Siroe en Tolomeo. De nadruk ligt daarbij op virtuoze aria's die Händel componeerde voor de castraat Senesino. Een welkome aanvulling.


The Handel Album: Limited Edition
1CD+DVD Casebound Deluxe

Handel:
Se potessero i sospir' miei (from Imeneo)
Agitato da fiere tempeste (Riccardo Primo)
Son stanco (from Siroe)
Deggio morire, o stelle (from Siroe)
Sì, la voglio Arsamene (from Serse)
Ombra cara di mia sposa (from Radamisto)
Qual nave smarrita (from Radamisto)
Rompo i lacci (from Flavio)
Sussurate (from Amadigi)
Stille amare (Tolomeo)
Se parla nel mio cor (Giustino)
Pensa a serbarmi, oh cara (from Ezio)
Bel contento (from Flavio)

Philippe Jaroussky (countertenor/director)
Ensemble Artaserse


This album, which focuses on arias from Handel's more rarely-performed operas, is the first that Philippe Jaroussky has devoted entirely to the composer – though his Erato discography already includes complete recordings of Faramondo, Partenope and, on DVD, Alcina, and arias by Handel feature on the countertenor's Carestini: A Castrato's Story. Praising Jaroussky in Handel, the New York Times has described him as "incomparable … thrilling of voice."

Now, for the first time, Jaroussky brings his impeccable Handelian credentials to an entire album devoted to arias by the composer, who produced thirty-five operas for the London stage between 1711 and 1741. For all Handel's current popularity, comparatively few of his operas are performed with great regularity. Works such as Giulio Cesare, Alcina, Ariodante, Agrippina, Serse, Rodelinda, Rinaldo, Partenope, Orlando, and Tamerlano have achieved varying degrees of currency, but, apart from an aria from Rodelinda, Jaroussky's new album puts the emphasis on operas we are less likely to hear in the theatre or concert hall: Amadigi di Gaula; Arianna in Creta; Flavio, re di Longobardi; Giustino; Imeneo; Radamisto (represented by no fewer than four arias); Riccardo primo, re d'Inghilterra; Siroe, re di Persia and Tolomeo, re di Egitto. A number of these operas were written for the famous castrato Senesino, who created many leading roles for Handel.
| | |
| --- | --- |
| Recensent | : Henri Drost |
| Datum | : 10-07-2017 |
| verschenen in Platomania | : 342 |
| Waardering | : 8.5 |
CD/DVD gratis verzending vanaf € 25,-
Vinyl gratis verzending vanaf € 50,-
Geen verzendkosten: