Dit artikel is vervallen en niet meer leverbaar.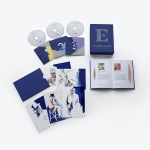 JOHN, ELTON
DIAMONDS LTD. DEL.ED.)
Drager: CD (Aantal 3) Levertijd: Niet meer leverbaar
Herkomst: NL Releasedatum: 10-11-2017 Item-nr: 3758171 EAN: 0602557681901
Disc 1
Disc 3
Skyline Pigeon (Piano Version / Remastered 2017)
Lucy In The Sky With Diamonds (Remastered 2017)
Pinball Wizard (Remastered 2017)
Mama Can't Buy You Love (Remastered 2017)
Part-Time Love (Remastered 2017)
Victim Of Love (Remastered 2017)
Empty Garden (Hey Hey Johnny) (Remastered 2017)
Kiss The Bride (Remastered 2016)
That's What Friends Are For
The One (Remastered 2017)
True Love (Remastered 2017)
Believe (Remastered 2017)
Live Like Horses (Remastered 2017)
Written In The Stars
This Train Don't Stop There Anymore (Remastered 2016)
Good Morning To The Night (Elton John Vs. Pnau / Remastered 2017)
Step Into Christmas (Remastered 2017)
RECENSIE
Diamonds is een nieuwe verzamelaar van Elton John en ditmaal wordt er een compilatie uitgegeven om te vieren dat hij en Bernie Taupin vijftig jaar samenwerken. We kunnen natuurlijk zeuren over de hoeveelheid compilaties ten opzichte van de hoeveelheid platen, maar dat doen we niet. Tenslotte zijn we al weer tien jaar verder dan de laatste compilatie. Diamonds komt als dubbelaar (cd/lp) of een deluxe 3CD-versie. …en die is, met een boek en kaarten erbij, natuurlijk het mooist. Inhoudelijk is er natuurlijk niets mis met deze verzamelaar. Alle grote successen komen voorbij maar ook enkele minder voor de hand liggende als True Love met Kiki Dee, That's What Friends Are For met Dionne Warwick, Stevie Wonder en Gladys Knight en Live Like Horses met Luciano Pavarotti. Alle natuurlijk al eerder verkrijgbaar, maar zeker aangenaam. Zoals zo vaak met compilaties moet je een afweging maken. Op basis van het gebodene is dit echter een meer dan prima verzamelaar. En wat heeft die man een ongelofelijke bult hits gehad!
| | |
| --- | --- |
| Recensent | : Hermen Dijkstra |
| Datum | : 19-10-2017 |
| verschenen in Platomania | : 342 |
| Waardering | : 8.0 |
CD/DVD gratis verzending vanaf € 25,-
Vinyl gratis verzending vanaf € 50,-
Geen verzendkosten: