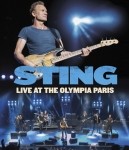 LIVE AT THE OLYMPIA PARIS
Drager: DVD (Aantal 1)
Levertijd: 3 a 5 werkdagen
Herkomst: NL
Releasedatum: 10-11-2017
Item-nr: 3760937
EAN: 5034504130579
Synchronicity Ii (Live At The Olympia, Paris / 2017)
Spirits In The Material World (Live At The Olympia, Paris / 2017)
Englishman In New York (Live At The Olympia, Paris / 2017)
I Can't Stop Thinking About You (Live At The Olympia, Paris / 2017)
One Fine Day (Live At The Olympia, Paris / 2017)
She's Too Good For Me (Live At The Olympia, Paris / 2017)
I Hung My Head (Live At The Olympia, Paris / 2017)
Fields Of Gold (Live At The Olympia, Paris / 2017)
Petrol Head (Live At The Olympia, Paris / 2017)
Down, Down, Down (Live At The Olympia, Paris / 2017)
Shape Of My Heart (Live At The Olympia, Paris / 2017)
Pretty Young Soldier (Live At The Olympia, Paris / 2017)
Message In A Bottle (Live At The Olympia, Paris / 2017)
Ashes To Ashes (Live At The Olympia, Paris / 2017)
50,000 (Live At The Olympia, Paris / 2017)
Walking On The Moon (Live At The Olympia, Paris / 2017)
So Lonely (Live At The Olympia, Paris / 2017)
Desert Rose (Live At The Olympia, Paris / 2017)
Medley: Roxanne / Ain't No Sunshine (Live At The Olympia, Paris / 2017)
Next To You (Live At The Olympia, Paris / 2017)
Every Breath You Take (Live At The Olympia, Paris / 2017)
Fragile (Live At The Olympia, Paris / 2017)
Menu / Sting / Live At The Olympia Paris (Live At The Olympia, Paris / 2017)
Heading South On The Great North Road (Live At The Olympia, Paris / 2017)
Looking For Me Looking For You (Live At The Olympia, Paris / 2017)
Don't Change The Love (Live At The Olympia, Paris / 2017)
Jellybean (Live At The Olympia, Paris / 2017)
Maria (Live At The Olympia, Paris / 2017)
River Man (Live At The Olympia, Paris / 2017)
Take Me To It (Live At The Olympia, Paris / 2017)
I Don't Wanna Know (Live At The Olympia, Paris / 2017)
Where Do You Go? (Live At The Olympia, Paris / 2017)
RECENSIE
"At the heart of what Sting does is a supreme songwriting talent, flowing melodies, audacious grooves and meaningful lyrics delivered by a master musician... with a thrilling super-honed musical attack and swagger." – The Telegraph
Eagle Vision and Cherrytree Management today announced the release of Sting - Live At The Olympia Paris on November 10 on DVD, Blu-Ray and digital download.
Sting - Live At The Olympia Paris captures the musician's critically-acclaimed guitar-driven rock tour as it hit the French capital for a very special performance at the iconic venue in April, 2017. Hailed "the show of a lifetime" (The Vancouver Globe & Mail), Live At The Olympia Paris celebrates highlights from across the 16-time Grammy Award winner's illustrious career, with blistering performances of new songs from his latest album 57th & 9th including the infectious first single,"I Can't Stop Thinking About You", and the anthemic "50,000", alongside classic hits from The Police as well as Sting's solo career. Sting - Live At The Olympia Paris showcases the wide range of his eclectic style and songwriting influences in one momentous live show.
Sting is joined onstage by a 4-piece band including his longtime guitarist, Dominic Miller, Josh Freese (drums), Rufus Miller (guitar) and Percy Cardona (accordion), with backing vocals from Joe Sumner plus Diego Navaira & Jerry Fuentes of Warner Music Nashville recording artists, The Last Bandoleros. Bonus content features 9 performances from Sting and special guests.

| | |
| --- | --- |
| Recensent | : Redactie |
| Datum | : 11-07-2017 |
| Waardering | : 7.5 |
CD/DVD gratis verzending vanaf € 25,-
Vinyl gratis verzending vanaf € 50,-
Geen verzendkosten: