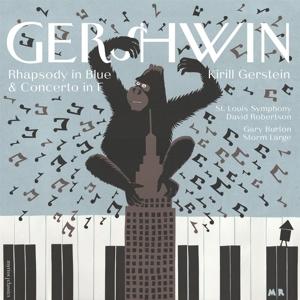 KIRILL GERSTEIN ST. LOUIS SYMPHONY
THE GERSHWIN MOMENT - RHAPSODY IN B
Drager: CD (Aantal 1)
Levertijd: Op werkdagen voor 16:00 besteld, morgen in huis
Herkomst: NL
Releasedatum: 16-03-2018
Item-nr: 3803206
EAN: 4260183510222
RECENSIE
De in Rusland geboren pianist Kirill Gerstein heeft uit vier concerten in de Verenigde Staten, zijn thuisland sinds 2003, over de periode 2012-2017 een aantal werken met Gershwin als thema samengesteld. Als hoofdmoten de Rhapsody in Blue en het Pianoconcert in F welke inmiddels regelmatig zijn terug te vinden op de klassieke concertpodia. Vol vuur enthousiasme en eigenzinnigheid speelt Gerstein de stukken. Hierbij is, wanneer niet strikt de historische versie wordt gevolgd, het altijd even wennen aan de interpretatie van de pianist. Blijkbaar is het publiek ook enigszins van slag want Gerstein moet het publiek na het applaus meedelen dat er nog twee delen volgen. De overige stukken vormen een soort toegift waarmee Gerstein zijn virtuositeit wil laten horen.


The Gershwin Moment

Kirill Gerstein (piano), Storm Large (vocals), Gary Burton (vibraphone)
St. Louis Symphony Orchestra, David Robertson

A Gershwin Moment is upon us: Rhapsody in Blue and the Concerto in F — not so long ago marginalized repertoire in limbo between classical and popular genres — are now, unapologetically, concert staples. George Gershwin is finally recognized as an early harbinger of musical synergies that we now take for granted. No longer viewed as an "inspired dilettante," betwixt and between, the new Gershwin is a confident master, versatile and visionary.

In this album recorded live, pianist Kirill Gerstein explores the music of George Gershwin. Together with conductor David Robertson and the St. Louis Symphony he plays the Concerto in F as well as the original jazz band version of the Rhapsody in Blue. Program also includes a selection of Gershwin songs in solo piano arrangements by the American pianist Earl Wild. The album features Gerstein's collaboration with two special guests: vocalist Storm Large sings Gershwin's "Summertime". Together with the legendary jazz vibraphonist, Gary Burton, Gerstein plays a jazz standard "Blame It on My Youth" written by Gershwin's close friend, Oscar Levant.
| | |
| --- | --- |
| Recensent | : Frits Broekema |
| Datum | : 3-06-2018 |
| verschenen in Platomania | : 346 |
| Waardering | : 6.5 |
CD/DVD gratis verzending vanaf € 25,-
Vinyl gratis verzending vanaf € 50,-
Geen verzendkosten: