Dit artikel is vervallen en niet meer leverbaar.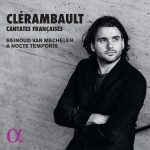 REINOUD VAN MECHELEN - A NOCTE TEMP
CANTATES FRANCAISES
Drager: CD (Aantal 1) Levertijd: Niet meer leverbaar
Herkomst: NL Releasedatum: 1-01-2018 Item-nr: 3794458 EAN: 3760014193569
RECENSIE
Clérambault: Cantates Françaises

Reinoud Van Mechelen (tenor)
A Nocte Temporis

Grampohne:
March 2018
Van Mechelen carefully chose the repertoire, not merely for the most suitable vocal writing but also to illustrate some of Clérambault's preoccupations…From the opening track, the musicians perform with confidence, palpable style and rappot…Van Mechelen's emotional intelligence and vocal control are impressive…The instrumental playing…is expertly executed and perfectly balances the voice.


After a Bach album, the tenor Reinoud Van Mechelen and his ensemble A Nocte Temporis present a programme of French music devoted to Nicolas Clérambault (1676–1749), a precociously gifted composer who published four volumes comprising a total of twenty-one cantatas. Reinoud van Mechelen offers us an anthology of these Cantates Françaises – Le Jaloux with its final air 'Dieu des Amants', Apollon, L'Amour guéri par l'amour and Pirasme et Thisbé (based on Ovid's Metamorphoses) – set as a succession of recitatives, airs and simphonies, as in a tragédie lyrique. The young Flemish tenor, now aged thirty, pursues an intensive solo career with the leading Baroque conductors (Christie, Pichon, Niquet) but is also keen to develop his personal projects and his ensemble: 'I'm a purist but without elitism. Music has to appeal to people. Perhaps that requires them to make an effort and depends on different criteria from the somewhat sensationalist criteria of society, politics and money. But music must be more than a simple distraction, and many people actually want it that way', he told the Belgian newspaper Le Soir in 2017, when the Prix Caecilia named him 'Artist of the Year'.

| | |
| --- | --- |
| Recensent | : Wil Zenhorst |
| Datum | : 18-05-2018 |
| verschenen in Platomania | : 348 |
| Waardering | : 8.5 |
CD/DVD gratis verzending vanaf € 25,-
Vinyl gratis verzending vanaf € 50,-
Geen verzendkosten: