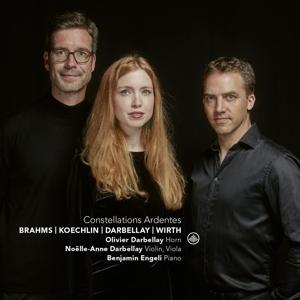 DARBELLAY, OLIVIER & NOEL
CONSTELLATIONS ARDENTES
Drager: CD (Aantal 1)
Levertijd: Op werkdagen voor 16:00 besteld, morgen in huis
Herkomst: NL
Releasedatum: 23-03-2018
Item-nr: 3807694
EAN: 0608917277029
RECENSIE
Constellations Ardentes

Olivier Darbellay, Noëlle-Anne Darbellay & Benjamin Engeli, Benjamin Engeli, Noëlle-Anne Darbellay

'Constellations Ardentes' is the second disc from Challenge Classics focussing on Olivier Darbellay, one of the foremost horn players of our time.
The previous disc (CC72771) was a refined selection of Lieder and Songs for Tenor, Horn and Piano, where Darbellay was teamed with Christoph Pregardien and Michael Gees. This time the repertoire is centred on chamber music for horn from Brahms to the present day. In fact, the disc is a milestone of horn music, featuring the Trio for horn, violin and piano, Op. 40, by Johannes Brahms, followed by a precious and rare gem, the Quatre Petits Pieces for horn, viola and piano, composed by Charles Koechlin in 1920. Two pieces for this rather unique combination of horn and violin by two living composers, Peter Wirth and Jean-Luc Darbellay, round up this unusual and intriguing collection of rare works. Olivier Darbellay is joined by violinist Noelle-Anne Darbellay and pianist Benjamin Engeli on the album.
| | |
| --- | --- |
| Recensent | : Redactie |
| Datum | : 16-04-2018 |
| verschenen in Platomania | : 347 |
| Waardering | : 8.5 |
CD/DVD gratis verzending vanaf € 25,-
Vinyl gratis verzending vanaf € 50,-
Geen verzendkosten: