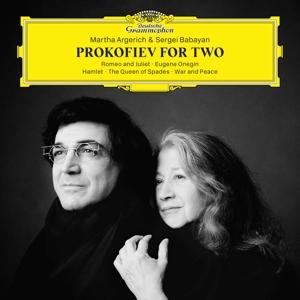 ARGERICH, MARTHA/BABAYAN, SERGEI
PROKOFIEV FOR TWO
Drager: CD (Aantal 1)
Levertijd: Op werkdagen voor 16:00 besteld, morgen in huis
Herkomst: NL
Releasedatum: 23-03-2018
Item-nr: 3810089
EAN: 0028947998549
RECENSIE
Als achtjarige werd Sergei Prokofiev door zijn ouders meegenomen naar het Bolshoi Theater waar werken van Gounod, Borodin en Tchaikowsky zijn liefde voor opera en ballet aanwakkert. Een jaar later wordt zijn eerste werk Velikan in besloten kring uitgevoerd. Tijdens zijn studietijd in Sint Petersburg schrijft Prokofiev de opera The Igrok en balletmuziek voor Ala i Lolli. Twintig jaar later schrijft Prokofiev zijn beroemde Romeo en Julia. Aan de hand van een suite van dit werk bewerkt Sergei Babayan deze muziek voor twee piano's. Verder bewerkt Sergei Babayan toneel- en filmmuziek zoals Hamlet, Eugene Onegin, The Queen of Spades en muziek uit de opera War and Peace. Hij draagt deze bewerkingen op aan Martha Argerich. Samen geven de twee pianolegendes een sublieme vertolking van deze prachtige muziek.


Prokofiev for Two
All works transcribed for two pianos by Sergei Babayan.

Martha Argerich (piano) & Sergei Babayan (piano)

Pianists Martha Argerich and Sergei Babayan present two stunning selections from Prokofiev's music for stage and screen in magnificent two-piano transcriptions by Babayan.

The album features Babayan's twelve-movement transcription of numbers from the ballet Romeo and Juliet and his seven-movement suite transcribed from the Russian composer's incidental music for Hamlet and Eugene Onegin, film score for The Queen of Spades and opera War and Peace.

These new Prokofiev transcriptions are both dedicated to Martha Argerich. "This project happened because of my love for Prokofiev, my love for Martha and my love for the ballet Romeo and Juliet," reflects Babayan.

The sense of mutual inspiration felt by these kindred spirits, palpable in their live performances together, is now captured for posterity in these recordings.
| | |
| --- | --- |
| Recensent | : Wil Zenhorst |
| Datum | : 24-03-2018 |
| verschenen in Platomania | : 346 |
| Waardering | : 8.5 |
CD/DVD gratis verzending vanaf € 25,-
Vinyl gratis verzending vanaf € 50,-
Geen verzendkosten: