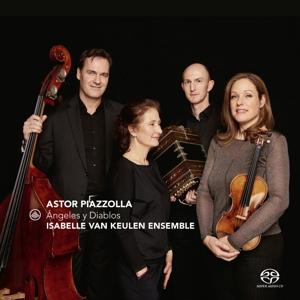 Drager: CD (Aantal 1)
Levertijd: Op werkdagen voor 16:00 besteld, morgen in huis
Herkomst: NL
Releasedatum: 6-04-2018
Item-nr: 3816246
EAN: 0608917276626
RECENSIE
Als zesjarige kreeg Isabelle van Keulen een lp met muziek van Astor Piazzolla cadeau en was meteen verknocht. Sinds enige jaren speelt ze samen met bandoneonist Christian Gerber, contrabassist Rüdiger Ludwig en pianiste Ulrike Payer zelf diens unieke tango's. Piazzolla vond de traditionele tango te saai en voegde daarom elementen uit Europese muziek, Argentijnse folklore en jazz toe en trok zo de tango naar de twintigste eeuw. Hoe gevarieerd de tango nuevo kan klinken, is duidelijk te horen op Ángeles y Diablos, oftewel Engelen en Duivels. Een sprankelend eerbetoon aan de grootmeester van de tango.

Piazzolla: Angeles y Diablos

Isabelle van Keulen Ensemble

The angel as a symbol of the tango-dance, death and resurrection
Without losing the romance, the violence, eroticism and devotion of the traditional tango that he saw as empty and hollowed out, Piazzolla renewed and modified it with elements of European art music, Argentine folklore and jazz, and thus tango took on a new meaning and shape.
The writer Alberto Rodriguez Muñoz approached Piazzolla in 1961 with a request to write music for his play Tango del ángel, which is about an angel appearing in an apartment block in Buenos Aires to cleanse the souls of its inhabitants. The titles Introducción al ángel, Milonga del ángel, and Muerte del ángel were created. The latter, a four-part fugue with hard, uncompromising harmonies and rhythms, impressively shows how far Piazzolla pushed the boundaries of traditional tango.
When the play was performed in 1962, even the previously hostile parts of the musical public in Argentina had to admit how fitting and successful this music was and the titles, especially Milonga del ángel, gained extraordinary popularity.
The motives of angel, Ángel, and devil, Diablo, appear in many of the tangos composed by Astor Piazzolla: "In my story, angels and devils mix - you have to have something in everything."
For a concert with his quintet at the Philharmonic Hall in New York in 1965, he wrote the series of Diablo titles: the spooky Tango del diablo, the intimate Romance del diablo and the wild, lashing Vayamos al diablo.
| | |
| --- | --- |
| Recensent | : Henri Drost |
| Datum | : 16-04-2018 |
| verschenen in Platomania | : 347 |
| Waardering | : 8.5 |
CD/DVD gratis verzending vanaf € 25,-
Vinyl gratis verzending vanaf € 50,-
Geen verzendkosten: