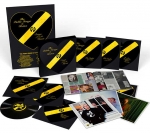 THE PUBLIC IMAGE IS ROTTEN LTD.ED.
Drager: LP (Aantal 6)
Levertijd: 3 a 5 werkdagen
Herkomst: NL
Releasedatum: 20-07-2018
Item-nr: 3849972
EAN: 0602567088554
Disc 1
Public Image (Remastered 2011)
Death Disco (7" Edit)
Memories (Edit)
Flowers Of Romance (Remastered 2011)
This Is Not A Love Song (Remastered 2005)
Bad Life (Single Version)
Rise (7" Edit)
Home (Single Version)
Seattle
The Body (7" Mix)
Disappointed (7'' Version)
Disc 3
The Cowboy Song
1/2 Mix Megamix
Another
Home Is Where The Heart Is
Blue Water
Question Mark
Selfish Rubbish
Usls 1
Turkey Tits
Disc 5
Happy (Us 12" Remix)
Warrior (Extended Version / Remastered 2005)
Lollipop Opera
Shoom
Death Disco (Original Unedited Monitor Mix)
(This Is Not A) Love Song (Remixed Version)
Disc 2
Warrior (Edit)
Don't Ask Me
Cruel
One Drop
Reggie Song
Out Of The Woods
Double Trouble
Disc 4
Death Disco (12'' Remix)
This Is Not A Love Song (12'' Remix)
Flowers Of Romance (Instrumental)
Rise (Bob Clearmountain Remix)
Seattle (Us 12" Remix)
The Body (Us 12" Extended Remix)
Disappointed (Extended Version)
Disc 6
Annalisa (New Mix / Townhouse 1979)
Banging On The Door (Alternate Mix / Townhouse 1980)
Vampire (Townhouse 1981)
1981 (Original Version / Townhouse 1981)
Bad Night (Park South 1983)
Can You Feel The Fours (Unknown Instrumental / Farmhouse 1987)
Spy Thriller (Alternative Mix / Farmhouse 1987)
Kashmir (Renovations Mix Instrumental)
Cajun (Bill Laswell Instrumental 1988)
Think Tank (Outtake / Eldorado 1991)
RECENSIE
Carrièreoverzicht van de legendarische band rond John Lydon - ook bekend als ene Johnny Rotten. Een schijf met alle singles, en drie schijven met veel zeldzaam en onuitgebracht werk: b-kantjes, 12 inch mixen, sessies, demo's en liveopnames completeren het beeld van deze band met - dankzij de bezettingswisselingen - vele gezichten , ondanks dezelfde uitgesproken voorman. Fraai zijn ook de dvd's vol promo-video's en live-opnames.
| | |
| --- | --- |
| Recensent | : Bert Dijkman |
| Datum | : 17-07-2018 |
| verschenen in Platomania | : 349 |
| Waardering | : 8.0 |
CD/DVD gratis verzending vanaf € 25,-
Vinyl gratis verzending vanaf € 50,-
Geen verzendkosten: