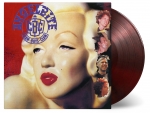 Drager: LP (Aantal 1)
Levertijd: Op werkdagen voor 16:00 besteld, morgen in huis
Herkomst: NL
Releasedatum: 13-07-2018
Item-nr: 3854795
EAN: 8719262006706
Superkid
Maniac
Troglodyte
Ellah
Devol
Roll On
Wild Voo Doo
Bite The Dice
Down In The Bubble
Hunger Love
Maximum Overdrive
So Hot
Spoons On Fire
Judy
RECENSIE
• 180 GRAM AUDIOPHILE VINYL
• INCLUDES "SO HOT" NOT ON THE ORIGINAL LP VERSION
• LIMITED NUMBERED EDITION OF 750 NUMBERED COPIES ON RED & BLACK MIXED VINYL

Angelbite is the fifth studio album by Dutch rock and roll band Claw Boys Claw. The band attempted a more accessible sound on Angelbite. The album points to the later "swamp rock" sound the band would adopt. Rumors of a cooperation with John Cale, who the band met in New York in 1988, had persisted, but Angelbite is produced by Steve Parker (who had worked with British band The Fall and Dutch singer Mathilde Santing), and recorded at ICP studios in Brussels.

| | |
| --- | --- |
| Recensent | : Redactie |
| Datum | : 6-08-2018 |
| Waardering | : 7.5 |
CD/DVD gratis verzending vanaf € 25,-
Vinyl gratis verzending vanaf € 50,-
Geen verzendkosten: