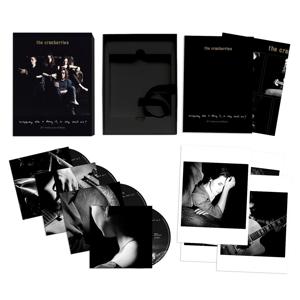 EVERYBODY ELSE IS DOING IT... LTD.
Drager: CD (Aantal 4)
Levertijd: Op werkdagen voor 16:00 besteld, morgen in huis
Herkomst: NL
Releasedatum: 19-10-2018
Item-nr: 3886045
EAN: 0602567505662
RECENSIE
Begin dit jaar kwam door een noodlottig ongeval een einde aan het leven van de Dolores O'Riordan, boegbeeld van een van de meest succesvolle alternatieve bands uit de jaren '90. Precies 25 jaar daarvoor scoorde het viertal uit Ierland een eerste enorme hit met het dromerige Linger, afkomstig van het debuut Everybody Else Is Doing It, dat werd geproduceerd door Stephen Street, die eerder werkte met The Smiths, een van de belangrijkste inspiratiebronnen van de Cranberries. De jubileumeditie van wat nu altijd hun beste album zal blijven is werkelijk voorbeeldig samengesteld. Fraai doosje, vier schijven met het volledige album (geremasterd), demo's, de eerste ep (als The Cranberry Saw Us), radiosessies (o.a. John Peel), een concert uit 1994, fraai boekje, foto's en een poster.
| | |
| --- | --- |
| Recensent | : Marco van Ravenhorst |
| Datum | : 24-10-2018 |
| verschenen in Platomania | : 352 |
| Waardering | : 7.5 |
CD/DVD gratis verzending vanaf € 25,-
Vinyl gratis verzending vanaf € 50,-
Geen verzendkosten: