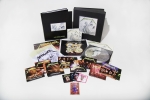 ...AND JUSTICE FOR ALL (LTD.DEL.BOX
Drager: LP (Aantal 21)
Levertijd: 3 a 5 werkdagen
Herkomst: NL
Releasedatum: 2-11-2018
Item-nr: 3886097
EAN: 0602567598770
RECENSIE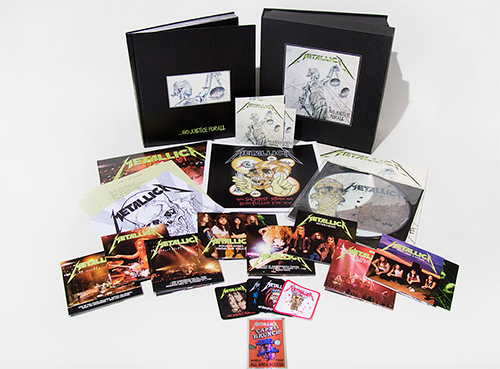 Als vierde in de rij van luxe en complete uitgaven van Metallica's back catalogus is …And Justice For All aan de beurt. De plaat verscheen op 7 september 1988 en de metalwereld keek er meer dan reikhalzend naar uit. Metallica had een geweldige barrière te slechten, namelijk de torenhoge verwachtingen na het explosieve succes van Master Of Puppets. De in de One On One Recording Studios te Los Angeles opgenomen plaat blijkt echter te barsten van de klasse en naast tijdloze nummers als Harvester Of Sorrow, Eye Of The Beholder, The Shortest Straw en Dyers Eve, was Metallica nog altijd recalcitrant genoeg om Cliff Burton te eren met het bijna tien minuten klokkende instrumentale To Live Is To Die. Tegelijk ontving de band internationale erkenning door met de iconische semiballad One -met die heerlijke mitrailleur riff in het midden- een Grammy Award te winnen. …And Justice For All klonk destijds wellicht iets te steriel, maar was een bevestiging van de fenomenale klasse van Metallica.
Remastered Deluxe Box Set
Remastered AJFA (double 180g LP), "One" picture disc, Triple live LP set, 11 CDs, 4 DVDs, set of four patches, Pushead print, tour laminate, download card (contains everything in the set), 120-page book.
LP 1 & 2: …And Justice for All (180g) – remastered album
LP 3: Picture Disc
LP 4, 5 & 6: Live Show (140g)
CDs 1-11: Remastered album, demos, mixes, interviews, live shows
DVDs 1-4: Live shows + more
Plus:
• Hardcover book (over 100 pages of unpublished photos/never-before-heard stories)
• Lyrics folder
• Set of patches
• Lithograph
• Tour laminate
• Download card
LPs
• …And Justice for All (Remaster)
o 2 180G LP set
o single pocket wide-spine jacket.
o Download card
o Double-sided insert
o Poly-lined white with center hole sleeves
• "One" 10" Picture Disc
o Clear 12" sleeve
o Double-sided insert
• Seattle '89 Live LP
o 3 140G LP set
o Tri-Fold jacket
o Poly-lined with with center hole sleeves
CDs
• *NOTE: Inner sleeves are 100# Gloss Text, 2PMS + Sealer
• CD 1: …And Justice for All
o Gatefold Wallet (18 pt C1S SBS, 4/C + AQ – bubble spine)
o CD booklet Pages
o Inner sleeve for disc
• CD 2: Interviews
o Single sleeve babypack (18 pt C1S SBS, 4/C + AQ)
o Inner sleeve for disc
• CD 3&4: Riffs, Jams, & Demos
o Gatefold Wallet (18 pt C1S SBS, 4/C + AQ – bubble spine)
o Two inner sleeves for discs
• CD 5: Rough Mixes
o Single sleeve babypack (18 pt C1S SBS, 4/C + AQ)
o Inner sleeve for disc
• CD 6&7: Live at the Troubadour, West Hollywood, CA – May 24th, 1988 + B-Sides
o Gatefold wallet (18 pt C1S SBS, 4/C + AQ – bubble spine)
o Two inner sleeves for discs
• CD 8&9: Live at Hammersmith Odeon, London, England – October 10th, 1988
o Gatefold wallet (18 pt C1S SBS, 4/C + AQ – bubble spine)
o Two inner sleeves for discs
• CD 10&11: Live at Long Beach Arena, Long Beach, CA – December 7th, 1988 + Chicago '88
o Gatefold wallet (18 pt C1S SBS, 4/C + AQ – bubble spine)
o Two inner sleeves for discs
DVDs
• DVD 1 & DVD 2: …And Camcorders for All & "One" (DVD 1) & Shoreline '89 (DVD 2)
o Gatefold wallet (18 pt C1S SBS, 4/C + AQ – bubble spine)
o Two poly sleeves for discs
o Two inner sleeves for discs
• DVD 3 & DVD 4: Stone Balloon '89 (DVD 3) & Justice on Wheels, Interviews & Raw Live Footage (DVD 4)
o Gatefold wallet (18 pt C1S SBS, 4/C + AQ – bubble spine)
o Two poly sleeves for discs
o Two inner sleeves for discs
Extras
• Folder with lyric sheets
o 100 lb Uncoated Cover – 4/4 – 4cp / 4cp – 9" x 11.5"
o Sheets – 80 lb. Uncoated book – 8.5" x 11"
• Set of four patches
o 2.75" x 3"
o Collated in a bag
• Tour laminate
o Print: 4/4 Color. Foil stamp on 1 side. Trim: 2.625" x 4"
• Litho
o 12x12
o White Monnalisa Paper – 104C
• Book
o 120 Page hardcover book
o 12.375" x 12.375"
o 100# Gloss Book, 100# Offset, Hyflex 7 Cambric
| | |
| --- | --- |
| Recensent | : Menno Valk |
| Datum | : 9-06-2018 |
| verschenen in Platomania | : 352 |
| Waardering | : 8.0 |
CD/DVD gratis verzending vanaf € 25,-
Vinyl gratis verzending vanaf € 50,-
Geen verzendkosten: