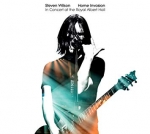 HOME INVASION IN CONCERT... (2CD&B
Drager: C+A (Aantal 3)
Levertijd: Op werkdagen voor 16:00 besteld, morgen in huis
Herkomst: NL
Releasedatum: 2-11-2018
Item-nr: 3890404
EAN: 5051300536473
Disc 1
"truth" Intro (Live At The Royal Albert Hall / 2018)
Nowhere Now (Live At The Royal Albert Hall / 2018)
Pariah (Live At The Royal Albert Hall / 2018)
Home Invasion / Regret #9 (Live At The Royal Albert Hall / 2018)
The Creator Has A Mastertape (Live At The Royal Albert Hall / 2018)
Refuge (Live At The Royal Albert Hall / 2018)
People Who Eat Darkness (Live At The Royal Albert Hall / 2018)
Ancestral (Live At The Royal Albert Hall / 2018)
Arriving Somewhere But Not Here (Live At The Royal Albert Hall / 2018)
Permanating (Live At The Royal Albert Hall / 2018)
Song Of I (Live At The Royal Albert Hall / 2018)
Lazarus (Live At The Royal Albert Hall / 2018)
Detonation (Live At The Royal Albert Hall / 2018)
The Same Asylum As Before (Live At The Royal Albert Hall / 2018)
Song Of Unborn (Live At The Royal Albert Hall / 2018)
Vermillioncore (Live At The Royal Albert Hall / 2018)
Sleep Together (Live At The Royal Albert Hall / 2018)
Even Less (Live At The Royal Albert Hall / 2018)
Blank Tapes (Live At The Royal Albert Hall / 2018)
The Sound Of Muzak (Live At The Royal Albert Hall / 2018)
The Raven That Refused To Sing (Live At The Royal Albert Hall / 2018)
Menu / Steven Wilson / Home Invasion: In Concert At The Royal Albert Hall (Live At The Royal Albert Hall / 2018)
Routine (Live At The Royal Albert Hall / 2018)
Hand Cannot Erase (Live At The Royal Albert Hall / 2018)
Heartattack In A Layby (Live At The Royal Albert Hall / 2018)
Interview
Disc 3
RECENSIE
2CD/1 blu-ray edition (digipak)

BD Audio: LPCM Stereo, DTS-HD Master Audio, NTSC Region 0 16:9
Blu-ray/DVD bonus features
Rehearsal tracks (Routine, Hand Cannot Erase, Heartattack In A Layby), interview and backstage footage.

Met al die albums en samenwerkingen komt Steven Wilson wel in aanmerking voor de titel 'hardest working man in show-business'. Progrock, metal en pop zet hij moeiteloos naar zijn hand, soms zelfs in één en hetzelfde nummer. Tijdens de toernee voor To The Bone, zijn alom geprezen laatste album, speelde hij dit voorjaar een thuiswedstrijd in Londen, in de mooist denkbare setting: de monumentale Royal Albert Hall. Dat moest natuurlijk gefilmd en zoals gebruikelijk liet Wilson niets aan het toeval over voor een weergaloze show. Een ijzersterke band, een perfect uitgebalanceerde setlist- de nadruk op To The Bone, maar ook de nodige Porcupine Tree-klassiekers. Het licht, de achtergrondclips, de montage, het klopt allemaal. Zangeres Ninet Tayeb doet mee en Permanating wordt opgeluisterd door een gezelschap Bollywood-danseressen. Van Nowhere Now, via Arriving Somewhere But Not Here tot aan The Raven That Refused To Sing zit je geboeid op het puntje van je stoel.


| | |
| --- | --- |
| Recensent | : Louk Vanderschuren |
| Datum | : 20-09-2018 |
| verschenen in Platomania | : 352 |
| Waardering | : 8.0 |
CD/DVD gratis verzending vanaf € 25,-
Vinyl gratis verzending vanaf € 50,-
Geen verzendkosten: